Churro Donuts, Baked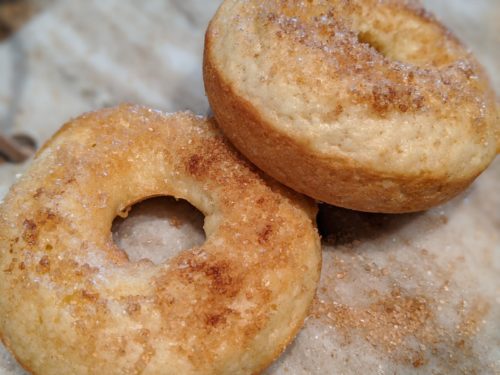 Author:
This Little italian
1 cup of flour
½ cup of pure cane sugar
1 TSP baking powder
½ TSP kosher salt
2 TBS vegetable oil
1 large egg
½ cup milk
1 TSP vanilla extract
For the topping, 2 TBS melted butter, drizzle of honey - ¼ cup granulated sugar & 1 TSP ground cinnamon
Preheat the over to 350 degrees, convection bake
Prepare doughnut trays by brushing on butter or oil, dust with flour
To a large mixing bowl, sift and add dry ingredients
To a measuring cup, add the wet ingredients and whisk until combined.
Add the wet ingredients to the dry and mix until incorporated
Fill the doughnut trays about ¾
Bake for 8-10 minutes. Only the bottom will turn golden. Doughnuts are done when firm to the touch.
Prepare the topping by stirring the melted butter and honey together. To a small plate, add the sugar and cinnamon, lightly mix with your fingers. Brush the top of each doughnut with the butter/honey mixture, then dip into the sugar/cinnamon, coating each one. Enjoy warm!