A Salad Tower: Roasted Beets, Red Onions, Mozzarella & Tomatoes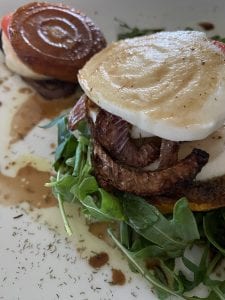 Author: this little italian
2 large yellow beets, washed, peeled, stems removed and sliced ½" thick rounds
1 medium red onion, peeled and sliced, ¼" thick rounds
Fresh mozzarella log, pre-sliced is nice, 8 slices
1 medium tomato, washed, sliced ½" thick rounds
2 handfuls of arugula, thoroughly rinsed
Seasonings, dill, salt, pepper, olive oil & balsamic vinegar
Pre-heat oven to 400 degrees
To a large cooking sheet, add the beets and red onion slices
Drizzle with olive oil, season with dill, salt & pepper. Then drizzle with Balsamic
Cook for 20 minutes, until the beets are fork-tender
Start "building" your tower!
Place arugula in the middle of the plate. Season it with salt, pepper and dill. Add 1 slice each, beets, mozzarella, tomato, and repeat until it stands 5-6" tall. Add the red onions to the top. Drizzle a little olive oil and Balsamic to the top and serve.
Recipe by
This Little Italian
at https://thislittleitalian.com/a-salad-tower-roasted-beets-red-onions-mozzarella-tomatoes/