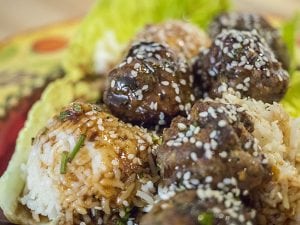 Asian Meatballs and Rice
Author: this little italian
Prep time:
Cook time:
Total time:
These Asian meatballs are delicious served atop leafy Romaine lettuce leaves and jasmine rice.
Ingredients
1 LB lean ground beef
1 tbsp. Dijon mustard
½ tbsp. ground ginger
1 tbsp. onion powder
1 tbsp. dill
1 tsp. salt
1 tbsp. honey
1 tbsp. pure maple syrup
1 tbsp. finely chopped chives
1 shallot finely minced
1 clove garlic, finely minced
1 tsp. hot sauce
1 tsp sesame oil
1 tbsp. soy sauce
1 egg
3 tbsp. fresh, chopped parsley
1 cup Panko breadcrumbs
Glaze
2 tbsp, canola oil
1 tbsp. sesame oil
1 clove garlic
1 shallot
1 tsp ginger
½ tsp salt
½ tsp pepper
½ cup hoisin
¼ cup soy sauce
¼ cup pure maple syrup
1 tbsp. frozen orange juice concentrate
1 tbsp fresh chives
Sesame Seeds
Instructions
Preheat the oven to 450 degrees.
In a large mixing bowl, add the beef, mustard, ginger, onion powder, dill, salt, honey, maple syrup, chopped chives, shallot, garlic, hot sauce, sesame oil, soy sauce and egg. Gently mix the ingredients together with one hand until it's mixed well.
Do not over mix, turn the meat gingerly 🙂
Add the parsley and breadcrumbs, turn the meat and mix with one hand until it's all blended.
Form the meatballs - 2" each will make 24 meatballs.
Cook at 450 for about 20 minutes, then broil (low) for about 5 minutes to form a nice crust.
While the meatballs are in the oven, make the glaze.
To a saucepan add the canola and sesame oils. Add the shallot and garlic, cook for just a minute or so, stirring with a wooden spoon. Add the ginger, salt, pepper, hoisin, soy sauce, maple syrup and orange juice concentrate. Stir to warm completely. (Do not boil, just make sure it's nice and warm.) Add the chives. Remove from heat.
I like to give it about 10 minutes off the heat before I transfer it to one of those squeeze bottles (so I can drizzle it over the meatballs before serving.)
To serve:
Place a lettuce leaf or two on the plate. I like to use Romaine or iceberg. Scoop some jasmine rice onto the leaf. (I use an ice cream scoop.) Place a few meatballs on top, drizzle with the glaze and sprinkle sesame seeds over the top.