Blueberry Coffee Cake
Author: this little italian
Prep time:
Cook time:
Total time:
Blueberry Coffee Cake is simple to make, it's full of delicious berries (that can be substituted with raspberries if you like.) The crunchy coconut topping creates a lovely little "nest" for a light drizzle of maple syrup or honey over the top.
Ingredients
½ cup butter, softened room temperature (I used salted)
1 cup of granulated sugar
2 large eggs
2 TSPN vanilla
2 TSPN baking powder
¼ TSPN salt
2 cups all purpose flour
½ cup cold milk
2½ cups fresh blueberries
Topping
¼ cup unsweetened, shredded coconut
1 TSPN nutmeg
2 TSPN granulated sugar
Instructions
Grease an 8" round cake pan. Preheat the oven to 350 convection bake.
In a large bowl, cream together the butter and sugar. Add the eggs and vanilla, mix well. Stir in the baking powder and salt. Alternating flour and milk, fold in half the flour, then add ¼ cup of the milk. Repeat. Just fold it in so the flour is incorporated, but don't over-mix it. With a rubber spatula, scrape down the sides of the bowl and fold in (gingerly) the blueberries, just a ⅓ at a time.
Pour the batter into the greased pan. The batter will be thick. With the spatula, just move the batter around to "fill" the pan. Scrape down the sides of the bowl - use every last delicious bit!
Mix up the ingredients for the topping by adding coconut, nutmeg and sugar to a small bowl. Give it a stir and then just sprinkle it over the top of the batter.
Bake for 1 hour. You can test it by inserting a toothpick into the center of the cake. If it comes out clean, it's ready. Or, if you touch the top of the cake and feel that it's dense in the center, it's ready. Remove from the oven, let cool for 30 minutes. Turn it out onto a cake stand, serve with warm, pure maple syrup or a drizzle of honey.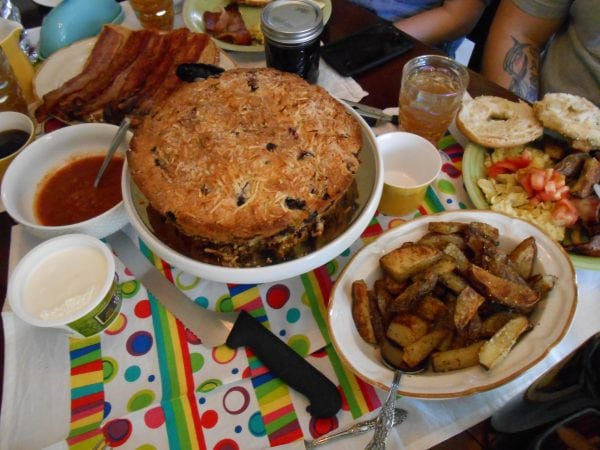 Breakfast Table