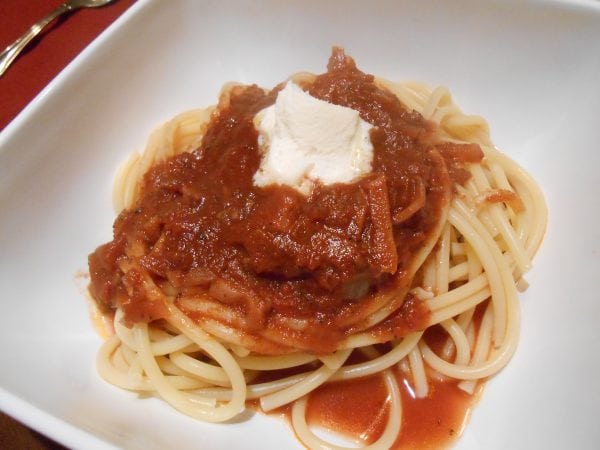 Bucatini Marinara
Author: this little italian
Prep time:
Cook time:
Total time:
When I was young, every Sunday my dad would take us to church. Afterward, we'd head to the cemetery where we paid our respects to my paternal grandparents, uncle and my brother. My sisters and I would get dressed up, climb into the Cadillac Coupe DeVille and off we'd go. Mom often stayed behind. Come to think of it, it was probably the only solitude she had all week. I seriously just had an "aha moment" - LOL! Olive oil, onions and garlic ~ that's how she started every Sunday meal. Sometimes she made bolognese, a meat based sauce of ground beef, pork and veal. Sometimes she'd keep is simple and make one of my favorites - Perciatelli and Marinara. This Bucatini recipe is similar - Bucatini is a thick, spaghetti-like pasta with a hole running through the center. The name comes from Italian: buco, meaning "hole", while bucato or its Neapolitan variant perciato means "pierced". Perciatelli was my dad's favorite. Bucatini with marinara, crusty bread and good olive oil. #sunday #church #family #home #comfort
Ingredients
8 oz Hen of the Wood mushrooms, rinsed and chopped
1 yellow onion, finely chopped
2 cloves garlic, minced
1 32 oz can crushed tomatoes (I like to pulse these in the blender)
1 6 oz can tomato paste
¾ cup red wine
¾ cup water
1 lb Bucatini
Olive Oil
Seasonings (pre-mix and season as you go)
1 TSPN oregano
1 TSPN onion powder
½ TSPN smoked paprika
½ TSPN sugar
Salt & Pepper
Serve with:
Mascarpone
Grated Pecorino
Instructions
To a medium sauce pan add olive oil, a few turns around the pan. Add mushrooms, onions and garlic. Season with salt & pepper, stir in half the pre-mixed herbs and spices. Cook over medium heat until onions are translucent. Add tomatoes, tomato paste, wine and water. Stir in the remainder of the pre-mixed herbs and spices. Add the sugar. Season again with salt and pepper (taste.) Bring to a simmer, partially cover and lower the heat. Cook for 1 hour.
Pasta
Bring a pot of salted water to a boil and cook the Bucatini. Follow package instructions. This is a thick spaghetti-like pasta. It takes about 12-14 minutes until al dente.
Notes
It's not traditional to make the marinara with mushrooms. But there's something about the earthiness from the mushrooms and subtle smoke from the paprika that pairs so well together. Serve with a cool dollop of Mascarpone. Add some grated Pecorino Romano if you like. This dish is rich and savory and doesn't disappoint.