Pinto Beans, Chicken, Fresh Salsa Burritos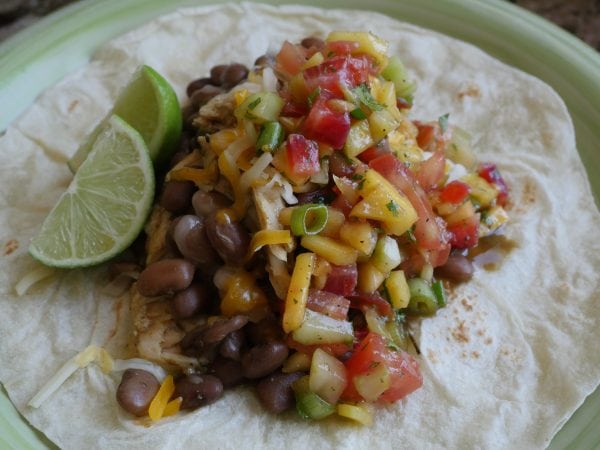 Author: this little italian
Recipe type:
Lunch, supper, snack
8 OZ pinto beans, rinse and soak overnight. Pour through a colander to drain.
1 quart chicken or veg stock
Spices:
1 TSPN cumin
½ TSPN dill
½ TSPN oregano
½ TSPN onion powder
½ TSPN fenugreek
¼ TSPN chili powder
¼ TSPN coriander
Salt & Pepper
3lb whole chicken (organic)
1 red onion (peel and cut in quarters)
1 lemon (cut in half)
Olive Oil
8 pats of butter
Honey
Large sprig cilantro
Salt & Pepper
The other half of your spices (from the beans)
1 cup chicken stock
1 mango diced
8-10 strawberries diced
1 tomato diced
Half English cucumber diced
3 scallions diced
2 TBS finely chopped cilantro
Salt & Pepper
Olive oil, dark balsamic vinegar
To a stock pot add 1 quart of chicken or veg stock and the pinto beans. Season with salt & pepper.
Premix spices, add ½ to the pot. Reserve the other half. Cook over high heat, bring to simmer. Lower heat, cook w/ the lid partially on 2.5 - 3 hours. (Trust me, it needs every minute.)
Preheat the oven to 350
Clean, trim, rinse and pat dry the whole bird.
Drizzle olive oil, both sides. Salt & Pepper both sides.
Separate the skin from the chicken breasts, place the butter under the skin, 4 pats each side.
To the cavity add a red onion cut in quarters
Cut a lemon in half and squeeze both halves over the top
Season the chicken with the leftover spices (from the beans.)
Place several sprigs of cilantro on top of the chicken and drizzle honey over the whole bird. Pour the chicken stock into the pot. Cover and roast in the oven for 2 hours
Add the mango, strawberries, tomato, cucumber, scallions and cilantro to a medium bowl. Drizzle olive oil and a few TBS of vinegar. Stir, mixing thoroughly. Season with salt and pepper to taste. You can make this a day ahead if you like!
Serve with shredded Mexican cheese, sour cream and garnish with a squeeze of fresh lime juice.
Recipe by
This Little Italian
at https://thislittleitalian.com/pinto-beans-chicken-fresh-mango-salsa-burritos/