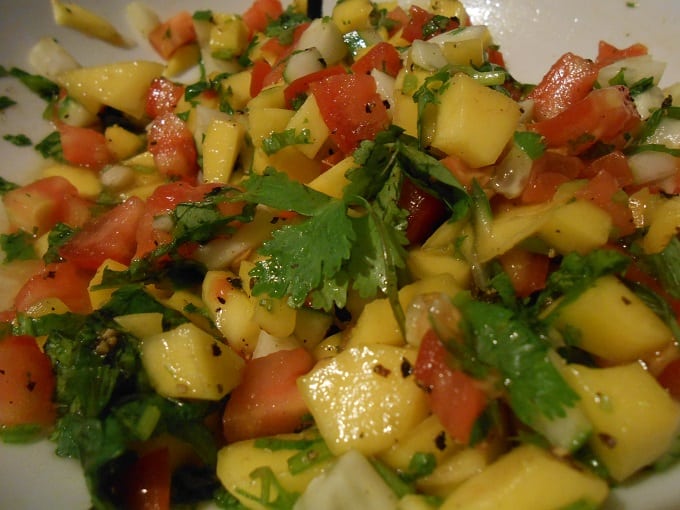 Mango Salsa
Author: this little italian
Mango salsa - use organic ingredients whenever possible. This mango salsa can be served with corn chips, as a side to salmon or chicken and delicious all by itself as a salad.
Ingredients
1 large mango
½ an English cucumber
2 Roma tomatoes
Handful of fresh chopped cilantro
¼ cup olive oil
2 tbsp cup rice vinegar
Juice of one lime
Seasonings
Salt and Pepper plus these dried herbs:
½ tbsp oregano
½ tbsp cumin
¼ tbsp onion powder
Instructions
Clean and peel mango, dice up into ½" chunks. Be careful to cut around the center core and only use the meat of the mango
Clean and peel cucumber, dice up into ½" chunks
Clean tomatoes and remove the seeds. Dice up into ½" chunks
Add all of the above into a small bowl
Run your knife along the stems of the cilantro and finely chop up the leaves. You can use as much or little to your taste, but I usually use 2 or 3 tbsp.
Give everything a gentle mix with a spoon. Add olive oil, vinegar and lime plus your salt, pepper and dried herbs. Gently mix with a spoon. Refrigerate until you're ready to serve cold on top of salmon, chicken or with some chips!
Notes
Variations (if you want)
You can substitute 2 Persian cucumbers for the English cucumber (they are smaller, that's why you'll need 2.)

Add a ¼ of a red onion, finely chopped for extra flavor!