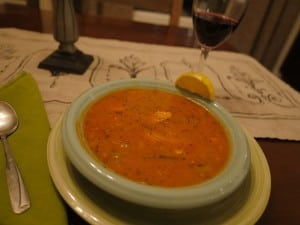 Vegetable Soup with Smoked Paprika
Author:
this little italian
Prep time:
Cook time:
Total time:
This vegetable soup with a smokey undertone of paprika and cumin will warm you on a brisk winter day!
Ingredients
Olive Oil
2 Yukon gold potatoes cubed, about 1" (or substitute russet if you prefer)
2 medium onions
3 stalks of celery
3 carrots
3 cloves of garlic
1 32 oz can of diced tomatoes
6 cups chicken broth
1 cup roasted corn kernels (fresh or frozen)
1 16 oz can navy beans (rinsed)
2 tbsp Mascarpone cheese
2 lemons
Parmesan cheese and lemon wedge for garnish
1 pound Orecchiette (or any small pasta you enjoy)
Seasonings
Salt & Pepper plus these dried herbs
1 tbsp oregano
1 tbsp rosemary
1 tbsp dill
1 tbsp cumin
½ tbsp thyme
½ tbsp smoked paprika
1 tsp cardamom
(I love these flavors and use my palm as a measure for 1 tbsp)
Instructions
In a soup pot heat up some olive oil (be liberal, 2 or 3 spins around the pan)
Add the potatoes, onions, celery, carrots and garlic. Add some salt & ground pepper. Stir and cook about 2-3 minutes. Add the diced tomatoes. Add chicken broth. Add all of your seasonings: oregano, rosemary, dill, cumin, thyme, smoked paprika, cardamom. Bring to a low simmer, partially cover and let the soup cook for an hour stirring every now and then. Taste it, make sure it has enough salt and adjust if needed. (Remember, you'll be serving with Parmesan on top, which adds saltiness.)
In a separate pot cook the pasta (follow package directions.) I cook the pasta separately so that it doesn't absorb all the broth!
To the soup, add the corn, navy beans, juice of one lemon and mascarpone. Stir until the cheese is melted into the soup.
To serve, ladle orecchiette into the bottom of the bowl. Ladle in the soup. Garnish with Parmesan on top and lemon wedge. Serve with a baguette.
If you want to give this soup a little protein boost, roast a chicken on the grill, shred or cube it and serve it in the soup!