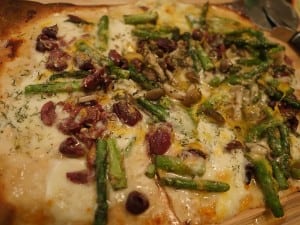 Asparagus and Mushroom Flatbread with Mascarpone and Orange Marmalade
Author: this little italian
Prep time:
Cook time:
Total time:
Orange marmalade and creamy Mascarpone give this savory asparagus and mushroom flatbread a little zing!
Ingredients
1 sheet of soft Lavosh from your favorite market (these will go in the oven)
4-6 oz asparagus, diced or cut into 1" lengths. I like to us thin asparagus.
4-6 Shimeji mushrooms (you can substitute for your favorite)
1 ½ tbsp Mascarpone
1 ½ tbsp orange marmalade
¼ cup of kalamata olives
4 oz mozzarella cheese
4 oz Fontina cheese (or Asiago)
2 oz Parmesan (grated)
Olive oil
Seasonings *
Salt & Pepper plus these dried herbs
½ tbsp dill
½ tbsp cardamom
½ tbsp fennel seed
½ tbsp herbs de Provence
(Add all your dried herbs to a small bowl and mix them together, set aside and use for cooking.)
Instructions
Prepare your veggies:
Clean and cut asparagus into 1" lengths
Clean and thinly slice mushrooms
In a medium frying pan heat the olive oil, 2 spins around the pan. Add the asparagus. Add sea salt and freshly ground black pepper. Cook for 3-5 minutes. Add the mushrooms; cook until they become tender. Season the veggies with a sprinkling or two of your mixed herbs.
Remove pan from heat.
Preheat the oven to 450 degrees. Line a baking sheet with parchment paper. Put one sheet of Lavosh down. Spread the Mascarpone over the top of the Lavosh. Do the same with the orange marmalade. (Trust me, it's amazing.)
Put down the sliced Mozzarella and half of the shredded Fontina. Next add the veggies and olives over the top. Add the rest of the Fontina over the top. Sprinkle with Parmasan cheese.
Bake in the oven for 15 minutes until crisp around the edges. The cheese will be bubbling hot!
Remove from oven, drizzle a little olive oil over the top. Cut the Lavosh into 6 squares. Serve with salad or as an appetizer.