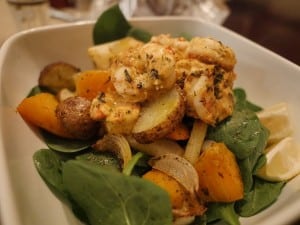 Tarragon Shrimp with Beets, Potatoes, Carrots and Onions
Author: this little italian
Prep time:
Cook time:
Total time:
Tarragon shrimp with beets, potatoes, carrots and onions is a simple way to deliver a flavorful meal in no time!
Ingredients
3 beets (white)
2 Yukon gold potatoes
2 carrots
1 yellow onion
½ pound deveined jumbo shrimp
1 tbsp yellow mustard
Seasonings
Salt & Pepper
1 tbsp tarragon
1 tbsp oregano
1 tbsp cumin
½ tbsp paprika
I like to mix these in a small bowl and season as I go!
Instructions
Pre-heat oven to 425 degrees.
Wash, dry and peel beets, potatoes and carrots. Cut into 1" cubes. Cut the onion into ½" slices. Place all in a medium bowl, drizzle with olive oil and season liberally with all the pre-mixed seasonings. Place on a baking sheet and cook in the oven for 40 minutes.
Wash and dry the shrimp. Place in the same medium bowl. Drizzle with olive oil. Add the mustard. Season with salt and pepper. Sprinkle 1 tbsp of tarragon over the top. Mix well. Take the veggies out of the oven and move them over to one side of the pan. Add the shrimp to pan. Return the baking sheet to the oven for 15 minutes until shrimp is cooked. Remove from oven. Serve on a bed of baby spinach dressed in olive oil and fresh lemon.