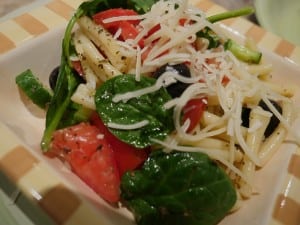 This Little Italian's Pasta Salad
Author: this little italian
Prep time:
Cook time:
Total time:
This Little Italian's pasta salad is light and delicious with the perfect ratio of macaroni to veggies!
Ingredients
8 oz package of baby spinach washed and dried
2 tomatoes (on the vine, heirloom or Roma)
3 Persian cucumbers
1 tbsp of finely chopped of chives
16 oz can of black olives
¾ lb sigarette mezzani (short thin tubular pasta, choose what you like!)
½ cup grated Asiago cheese (for garnish)
Olive oil
Peach infused white balsamic (or use plain if you like.)
Seasonings
Salt & Pepper
1 tbsp tarragon
1 tbsp dill
1 tbsp oregano
½ tbsp paprika
(Pre-mix these in a small bowl, season as you go.)
Instructions
Cook the pasta according to package instructions. Drain and set aside. Drizzle with a little olive oil to avoid sticking together and let it cool down.
To a large salad bowl add spinach. Dice up the tomatoes, add to the bowl. Cut the cucumbers into half moon slices. Add to the bowl. Take this opportunity to dress the veggies with olive oil and ½ of the pre-mixed seasonings. Add the pasta. Dress with more olive oil and about ¼ cup of the balsamic. Add the rest of the seasonings. Toss until the veggies and pasta are mixed together. Add the black olives and chives. Give a final mix, serve. Garnish with grated cheese.