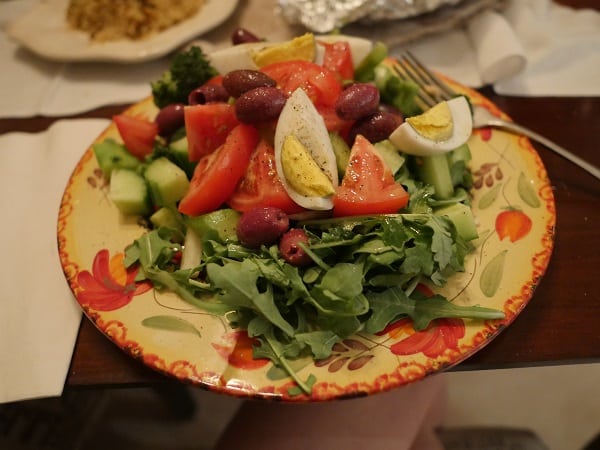 Steamed Broccoli and Arugula Salad
Author: this little italian
This delicious salad is simple yet packed with nutrients and protein from organic green veggies and tasty hard boiled eggs!
Ingredients
1 lb steamed broccoli
2 cups arugula
2 tomatoes (vine ripened, heirloom or Roma)
Cucumber (1/2 English or 2 small Persian)
1 cup Kalamata olives
2 hardboiled eggs
Dressing
Salt & Pepper (to taste)
½ tbsp dill
½ tbsp oregano
¼ cup olive oil
¼ cup white balsamic (or any fruit infused such as peach or raspberry if you like.)
In a small bowl or measuring cup, add all of the ingredients for the dressing, whisk and set aside.
Instructions
Steam the broccoli until fork tender, refrigerate.
Cut up the broccoli into bite size pieces. Cut up the tomatoes, cucumbers and quarter the hard boiled eggs. Divide the ingredients in half and assemble the salad in 2 plates: bed of arugula, broccoli, tomatoes, cucumbers, olives and eggs. Pour the dressing over the top, as much or little as you like. Serve with brown rice and/or warm bread.
Brown rice is so delicious and hearty, just prepare according to package instructions. I use the long-cooking, organic brown rice from Trader Joe's. Top with avocado, a drizzle of olive oil, pinch of sea salt and a squeeze of fresh lemon.