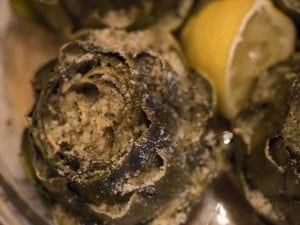 Stuffed Artichokes
Author: this little italian
Recipe type:
Appetizer, lunch or light supper
Prep time:
Cook time:
Total time:
Stuffed artichokes are delicious and light, filled with Italian breadcrumbs, Pecorino Romano and finished with fresh lemon.
Ingredients
4 medium to large whole artichokes
3 lemons
water
½ cup of plain breadcrumbs (*season the breadcrumbs, see below)
½ cup of grated Pecorino Romano
Olive Oil
2 tbs melted butter
½ cup white wine
¼ cup chicken broth
2 tbs fresh parsley
Season the breadcrumbs
1 tbsp tarragon
1 tbsp dill
1 tbsn onion
salt & pepper
Instructions
Clean the artichokes -
Rinse well
Cut about 1.5" off the top
With kitchen scissors, snip off the "points" on each petal
Manually, loosen up the petals, open them up the best way you can
Manually, do your best to gently open up the petals so that they loosen up
Cut the stem off the bottom, taking about ¼" of the artichoke so that it "sits flat" in the pan
Place the artichokes stem side down in a stock pot, and then fill the pot about 2" deep with water. Cut a lemon in half, squeeze the juice from both halves into the pot, over the artichokes. Place the lemon halves inside the pot. Drizzle the artichokes with olive oil. Add salt to the water, about 1 tbsn and sprinkle salt and pepper over the tops of the artichokes. Bring to a simmer, steam with the lid on for 20 minutes. Remove from pot w/ tongs and transfer to a baking dish. (I use a Pyrex pie dish.)
Preheat the oven to 450 degrees
Combine the cheese with the seasoned breadcrumbs
With a spoon, add the breadcrumb mixture to each artichoke, carefully spooning inside the petals and packing it down as you go.
Place in baking dish, drizzle with olive oil. Add half of the wine and half of the broth to the bottom of the baking dish. Cover the dish with foil cook in the oven for 50 minutes. Remove foil and add the remaining wine and broth to the baking dish. Squeeze the juice of 2 lemons over the top. Drizzle the melted butter over the top. Salt and pepper over the top. Add the parsley and return the artichokes to the oven, uncovered and bake for 10 more minutes.
Serve hot with crusty bread.