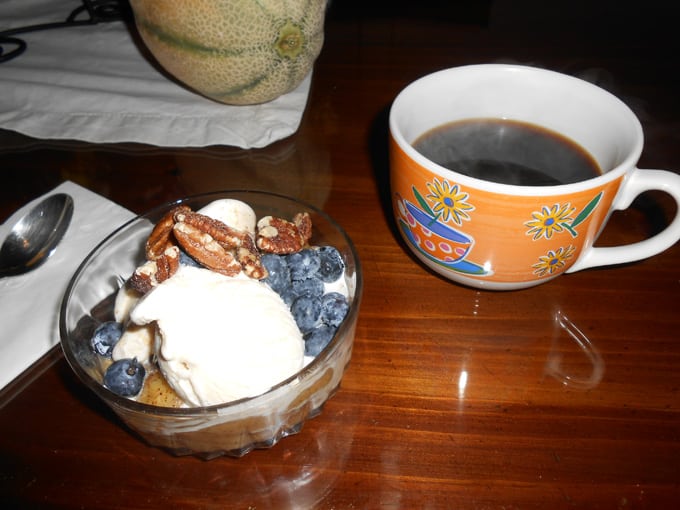 Bananas Foster served with Vanilla Ice Cream & Berries
Author: this little italian
Prep time:
Cook time:
Total time:
Who doesn't like warm, sweet bananas served with ice cream, berries & crunchy nuts?
Ingredients
2 bananas, sliced long-ways and then halved
2 tbsp butter
¼ cup of brown sugar
Dash of cinnamon, nutmeg & sea salt
Instructions
Heat up a medium-size frying pan, add the butter.
Put the bananas in the pan flat side down, making sure each one has its own space in the pan.
Add the brown sugar, cook until it's melted.
Lightly stir the bananas with a wooden spoon covering them with the sugar.
Sprinkle in your seasonings: cinnamon, nutmeg and sea salt. (I also like to use cardamom because I love the flavor.)
Remove from heat while the bananas still have some firmness. Total cooking time is only a few minutes, just to warm them up. You want the fruit to have a little bite, not mushy.
Notes
It is best to use bananas that are "ready" vs. over-ripe like you would when making banana bread. They hold up better and taste better with the added, sweet ingredients.

Serve with your favorite vanilla ice cream and fresh, cold berries, such as strawberries, blueberries, raspberries and/or blackberries.