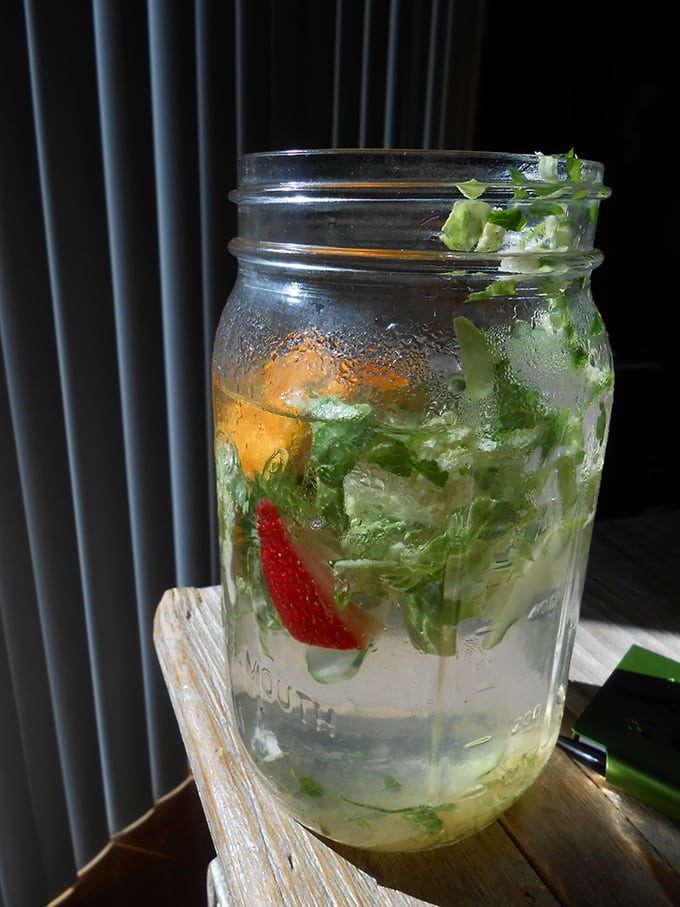 Detox H2O | Brussels Sprouts, Strawberries & Parsley
Author: this little italian
Detox H20 with Brussels sprouts, strawberries and parsley is a delicious and thirst-quenching way to stay hydrated and healthy. We all know how important it is to drink water every day. I wake up each day and after my (only) cup of coffee, I drink water throughout the day. The recommended amount is about 64 ounces per day. I've also read that drinking in ounces to the # of pounds (you weigh) is also a good formula for staying hydrated. I like to drink distilled water and "spike" it a variety of ways. Brussels sprouts, strawberries and parsley is a nice combination of fresh clean flavors.
Ingredients
16 oz of distilled cold water
¼ cup shredded Brussels sprouts (just slice them thin!)
1 or 2 large strawberries, hulled & halved
2 or 3 sprigs of Italian flat leaf parsley
¼ Orange (wedge)
Instructions
Put some ice in a 32 oz Mason jar (or glass), ⅓ of the way full
Add the Brussels sprouts, strawberries
Add the parsley, give a light stir
Fill the jar or glass up with the distilled cold water
Squeeze the juice of the orange wedge into the glass, add the wedge for garnish
Notes
Variations
Substitute grapefruit, lemon or lime for the orange
You can make this in a larger batch and refrigerate overnight.  I like to drink infused water throughout the day for nourishment and taste!