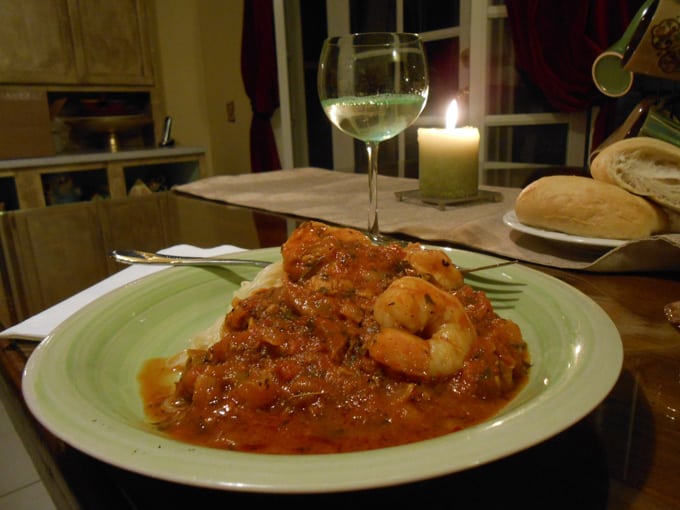 Cappellini with Shrimp
Author: this little italian
Prep time:
Cook time:
Total time:
Cappellini with shrimp is my go-to pasta. Serve with crusty Italian bread to soak up all the deliciousness of its spicy red gravy.
Ingredients
½ pound of shrimp
1 onion
2 cloves of garlic
1 28 oz can of whole San Marzano peeled tomatoes (blend in the blender)
2 tbsp tomato paste
½ cup of white wine (substitute dry vermouth or chicken broth)
⅓ cup chopped, fresh parsley
¼ cup chopped, fresh oregano
¼ cup chopped basil
Grated Locatelli or Pecorino Romano cheese
Seasonings
Sea Salt
Fresh course ground black pepper
Plus these dried herbs:
Oregano
Parsley
Basil
Fennel seeds
Smoked Paprika
Onion Powder
1 lb cappellini
Instructions
In a large shallow sauce pan, heat up some olive oil, about 3 spins around the pan.
Finely dice the onion and garlic, add to the olive oil and stir with a wood spoon. Don't over-cook it, just lightly sautéed and season with salt and pepper. Add your dried herbs: oregano, parsley, basil and fennel seeds. These are delicious, assertive flavors. Try ⅛ tsp of each, but season to your personal taste.
Add the tomatoes along with 2 tbsp of tomato paste. Add ½ cup of white wine. (You can also use dry vermouth or chicken broth if you like.) Add smoked paprika and onion powder, a liberal sprinkle of each, half a tsp. Stir, bring to a simmer, lower the heat and cook for 40 minutes, stirring occasionally.
About the shrimp…
Clean your shrimp. Peel, devein and rinse in cold water. Pat dry with a paper towel and place in a bowl, refrigerate until you're ready to add it to the sauce. I leave the shrimp whole, but if you want, you can cut them up. I love the heartiness and presentation of keeping the shrimp whole.
With about 10 minutes left for cooking your sauce, put up a big pot of water to cook the Cappellini, following the cook top directions on the package. Cappellini takes all of about 3 minutes to cook ~ you want it al dente. As soon as the pot comes to a boil and you've salted the water, add the Cappellini. At this time, take the shrimp from the refrigerator and add it to your sauce. Also add the fresh chopped herbs parsley, oregano and basil.
Drain the pasta.
Serve in a flat dish, some pasta, and lots of sauce up top. Serve with grated cheese.
Notes
Variations (if you want)
You can add some yummy sautéed mushrooms, any kind you like. I like the earthy ones, crimini, shitake or chanterelles are good. Just cook these with the onions and garlic at the beginning.

I also love to dollop some Mascarpone or Ricotta INTO THE BOTTOM of the plate. When you place the hot Cappellini and sauce up top it melts it down and creates a delicious, rich creaminess.

For presentation, a little drizzle of olive oil on top of the plated pasta adds flavor and a beautiful glistening sheen.
OMGosh, doesn't that smell amazing?