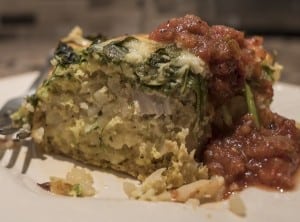 Chicken Frittata Greek Style
Author: this little italian
Prep time:
Cook time:
Total time:
Chicken Frittata Greek-style may be served for brunch or even a casual supper.
Ingredients
Olive Oil
2 small Yukon Gold potatoes, 1" cubes
2 small onions fine chopped
3 cloves garlic
8 piece chicken tenders cut into bite-size pieces
12 eggs
8 oz crème fraiche
1 package of frozen tater tots
8 oz shredded mozzarella
8 oz crumbled feta cheese
1 package of baby spinach, washed and dried
Salt & pepper
Seasonings and Spices
1 tbsp oregano
1 tbsp dill
1 tbsp rosemary
1 tbsp cumin
½ tbsp paprika
1 tsp cardamom
½ tsp turmeric
I like to add all the seasonings and spices to a small bowl, mix and use as needed. (I like to layer flavors and season as I go.)
Instructions
Heat up a skillet with olive oil, several turns around the pan. Sautée the Yukon Gold potatoes, add the onions, garlic and chicken tenders. Add salt and pepper. Add a couple of pinches of the pre-mixed seasonings. Cook through, about 10 minutes. Remove from heat.
In a large bowl whisk 12 eggs. Add crème fraiche, tater tots and mozzarella, salt and pepper. Set aside.
Coat a foil 9" x 13" pan with some olive oil. Add the potatoes, onions, garlic and chicken mixture. Pour the egg mixture over the top. Add a couple of pinches of the pre-mixed seasonings. Sprinkle the feta on top of that. Add the spinach to the top. Cover with parchment and then foil on top of that. Bake in a 400 degree oven for 1 hour 15 minutes. Remove from oven let stand for 15 minutes.