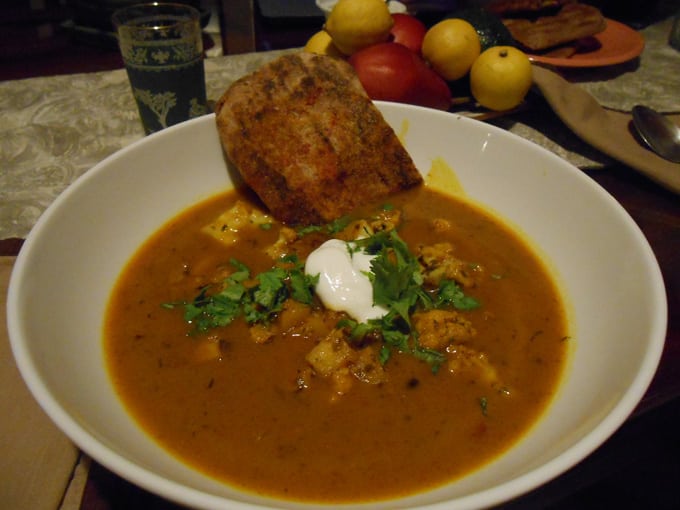 Coconut Curry Soup with Cauliflower & Potatoes
Author:
this little italian
Prep time:
Cook time:
Total time:
Coconut Curry Soup is spicy and satisfying. Serve with naan for a delicious, simple meal.
Ingredients
Olive Oil
4 red potatoes cubed, about 1" (or substitute russet or Yukon gold if you prefer)
1 whole shallot, minced
2 cloves garlic
1 scallion
Whole head of cauliflower
4 cups of chicken broth
2 tsp red curry paste (if you want a milder flavor, reduce)
1 16oz can coconut milk
½ cup frozen baby peas
For Garnish top with fresh:
Cilantro
Chives
Lime Wedge
Plain Greek Yogurt
Instructions
Cut up potatoes into 1" cubes
Mince shallots, garlic
Cut off the ends of the scallion and using both the green and white, slice up thin
Core the cauliflower, remove the florets and cut into small bite-size pieces
In a sauce pan heat up some olive oil (about 2 spins around the pan)
Add the potatoes, shallots, garlic and cauliflower. (Season in layers; salt and pepper as you go.) Add the scallions, season all with salt, pepper, coriander, thyme, cilantro, basil, ginger, dill weed and cumin, turmeric and cayenne, stirring as you go.
Once the veggies are coated in the oil, (it is ok to add a little more olive oil if your veggies need it) herbs & the shallots are translucent, add the chicken broth and bring to a simmer.
Add the red curry paste.
Cook about 30 minutes.
Add the coconut milk, cardamom and sweet peas.
Cook another 5-10 minutes. Serve in a soup bowl.
Notes
Add garnishes, one, some or all! Serve with warm flatbread drizzled with olive oil.