Portobello Wellington is a veggie take on Beef Wellington.  It's hearty enough for a meat-eater, and obviously can be made with beef, chicken or even salmon.  In fact, salmon spinach and feta would be delicious as well.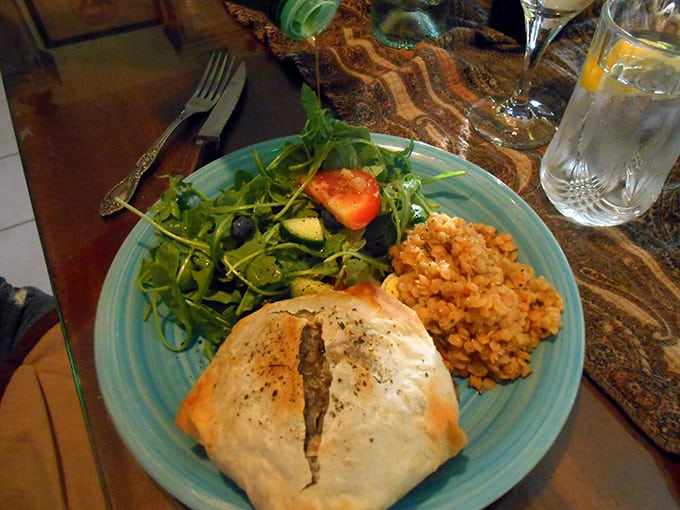 Portobello Wellington
Author: this little italian
Prep time:
Cook time:
Total time:
Portobello Wellington is an alternative to beef, but satisfying in every way. If you want to try something different give this Portobello wellington recipe a try. I think you will love it! It takes a little time to prepare, so open a bottle of Malbec and enjoy some time in your kitchen!
Ingredients
Two large Portobello mushrooms
1 whole shallot, minced
2 cloves of garlic, minced
8 oz of any other type of or variety of chopped mushrooms for the stuffing: (I used king oyster mushrooms, but porcini, crimini, enoki, maitake, shitake, Chanterelle would be yummy! Omgosh, what if we did actual oysters?)
2 cups of arugula (you can use kale or spinach)
White wine
Beef Broth
½ a lemon
¼ cup dry bread crumbs (I use plain)
Gorgonzola (you can use feta or parmesan)
3 sheets of phyllo dough
A little butter
Egg white, beaten
Olive oil
Seasonings
Salt, pepper, thyme, herbs de Provence, onion powder, smoked paprika
Instructions
Lightly spray or grease foil-lined baking sheet w/ olive oil, preheat the oven to 375
Prepare the Portobello mushrooms by taking out the core, cleaning and scraping out the inside.
Salt and pepper both sides, drizzle with a little olive oil on top and place core side down on a foil-lined baking sheet. Bake at 375 for 10 minutes, take out and set aside.
Clean your other mushrooms & chop
Clean the arugula (no chopping necessary, it'll wilt)
In a medium sauté pan drizzle some good olive oil (don't be shy; a couple spins around the pan!)
Add finely minced shallots, garlic and whatever other variety of chopped mushrooms you chose for this dish. If you're feeling rowdy, add a dab of butter for flavor, but it really doesn't need it.
Season with salt, pepper, thyme, herbs de Provence, onion powder, and smoked paprika. Probably no more than ¼ to ½ teaspoon of each, but taste; season as you go. (You know what to do!) Add the arugula, layer your flavors, may add more salt & pepper after you add the arugula).
Add beef broth, just a spin around the pan
Add white wine, just a spin around the pan
Cover, let the flavors meld. Once the arugula is wilted, take it off the heat, add to a large bowl, add ¼ cup of breadcrumbs to absorb any liquid. Squeeze a half a lemon over the top, give a little mix and set aside. (Doesn't it smell good?)
If you have fresh herbs, I think parsley could be a nice addition here, but it's not necessary.
Phyllo dough - mine were 12" x 18" sheets. I bought them at Sprouts, they're organic and in the freezer section. Make sure you defrost the night before; just put them in the fridge ~ they'll be ready when you are the next day.
Lay one sheet of dough on a floured counter. Brush some melted butter on it, covering the whole sheet. Lay another sheet over top of it, brush with melted butter again. You're going to make 2 Wellingtons with this sheet.
Take one Portobello and inside the cap add a tablespoon of crumbled Gorgonzola. (You can add more or less, whatever makes you happy!) Now add half of your yummy stuffing. I know, it's a lot, but really pack it in there. Place the Portobello mushroom, stuffing side up in the one on each side of your phyllo sheet. Take the third sheet and place it on top. Now take your pizza cutter of knife and slice down the middle to separate the Wellingtons. At this point, shape the Wellingtons - do your best to cut off the rectangular edges and create a circle that's about an inch larger than your Portobello. It's rustic ~ not supposed to be perfect. Let's just say I have issues, so for me, this is the tough part. Breathe deep and let it go to your inner chef.
Take your beaten egg white, dip your fingers in and run around the edges of the dough. Now gather the dough and begin to fold all the way around. This is the bottom, so it doesn't matter how it looks. Once you're happy w/ your "pie" turn it over and place it on your greased baking sheet. (Use the same one you did to pre-cook the Portobellos, you may want to give another fine spray of olive oil)
Now that you have your perfect little Wellingtons on the baking sheet (folded dough side down), take a knife and create 4 slits on the top of each one, so the steam can escape while cooking. Salt and pepper the top.
Bake at 375 for 25 minutes.
Notes
Serve hot. When you cut into it, use a serrated knife for a nicer presentation, also, the cheese inside will make luscious little drips. I served mine w/ a side of Chablis yellow mustard, but really, it's so flavorful and moist inside, it doesn't need anything.