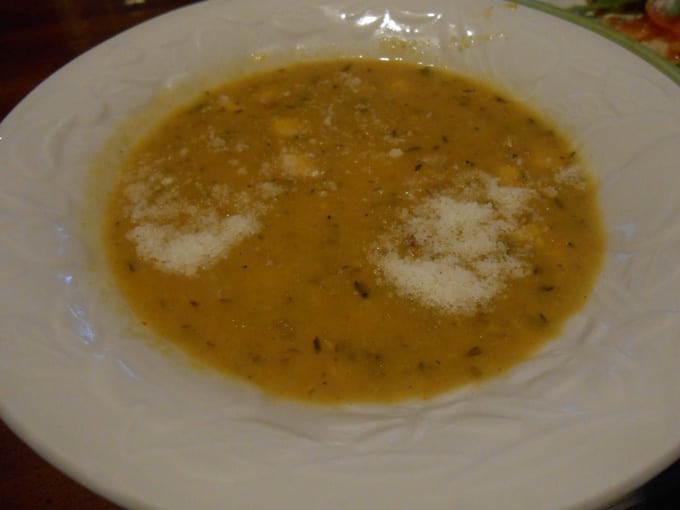 Corn Chowder
Author: this little italian
Prep time:
Cook time:
Total time:
Corn chowder is rich and delicious velvety soup that can be served as a starter, or as the main entree. Serve with crusty bread and beer!
Ingredients
Olive Oil
4 Yukon gold potatoes cubed, about 1" (or substitute russet if you prefer)
1 whole shallot, minced
3 cups of sweet corn kernels off the cob (or substitute frozen, defrost)
4 cups of chicken broth
½ cup of heavy cream or half & half
For garnish
Parmesan cheese grated
Fresh flat leaf Italian parsley
Seasonings
Salt & Pepper plus these dried herbs
½ tbsp Oregano
1 tbsp Basil
1 tbsp Dill weed
Instructions
Cut up potatoes into 1" cubes
Mince shallots
Remove the corn from the cob, or if you are using frozen, defrost a bit.
Into a blender add 1.5 cups of the corn with 1 cup of broth. Blend until it becomes smooth. Set aside.
In a soup pot heat up some olive oil (about 2 spins around the pan)
Add the potatoes and shallots.
Season with salt, pepper, oregano, basil and dill weed stirring as you go for about 5 minutes
(I love these flavors and use my palm as a measure for 1 tbsp)
Once the veggies and herbs are coated in the oil & the shallots are translucent, add the remaining 2.5 cups of chicken broth. Bring to a simmer. Add the blended corn. Add a little more salt, pepper, and dill weed. (I layer flavors as I go.) Cook about 30 minutes. Stir in the cream or half & half and cook another 5 minutes.
Notes
Serve in a soup bowl. Garnish with grated cheese and chopped parsley.