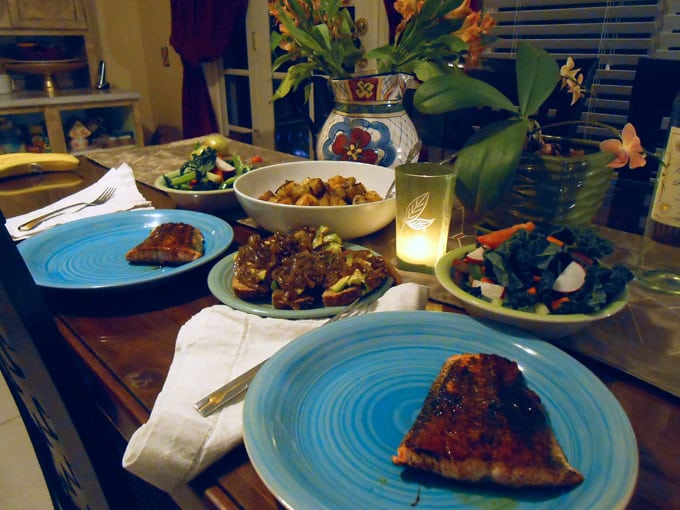 Maple Glazed Salmon
Author: this little italian
Prep time:
Cook time:
Total time:
This maple glazed salmon has just the right amount of sweet and savory to satisfy anyone!
Ingredients
2 pieces of whole wild sockeye salmon
2 tbsp apricot preserves
1 tbsp brown sugar
¼ cup pure maple syrup
1 tbsp of dark balsamic
¼ cup olive oil
fresh parsley
Seasonings
Salt & Pepper plus these dried herbs:
½ tbsp oregano
½ tbsp dill weed
½ tsp cardamom
Instructions
Marinade
In a 16 oz measuring cup add the apricot preserves, brown sugar, maple syrup, balsamic and olive oil. Whisk until it's blended nicely, set aside.
Rub
In a small bowl add the oregano, dill, & cardamom. Mix it up to make the rub.
Clean the salmon and pat dry
Season both sides liberally with salt and fresh ground pepper
Place in a zip lock bag and pour in the marinade. Seal the bag and move it around so the salmon is completely covered. Refrigerate for 20 minutes.
Preheat the oven to 450 degrees F.
Remove the salmon from the bag, place in a Pyrex baking dish, skin side up (Line the baking dish with foil for easier cleanup)
Spoon half the prepared rub onto the salmon, rub it in. Turn over each piece and do the same
Add fresh parsley to the top, bake with skin side down for 15 minutes
Notes
Variations
You may want to grill the salmon outdoors instead of baking it in the oven. Grill for 7 minutes on each side.