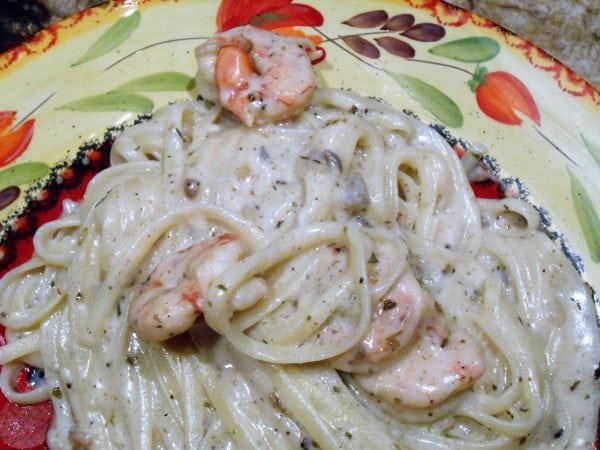 Linguine, Shrimp & Mushroom Bechamel
Author: this little italian
Prep time:
Cook time:
Total time:
Do you like Fettuccini Alfredo? I love it! Creamy pasta sauces are rich and tasty. Granted, I don't eat it everyday, only occasionally when I'm craving something luscious! Linguine, Shrimp and Mushroom Bechamel is velvety and flavorful - the mushrooms add an earthiness to the dish.
Ingredients
1 LB Linguine
3.5 OZ package mushrooms, chopped (I use hen of the woods, but Criminy, baby portabella or another dark, earthy mushroom would work!)
2 shallots, minced
1 LB large shrimp (25 count)
5 TBS butter
5 TBS flour
½ cup dry white wine
3 cups milk
2 tbsp Mascarpone
¾ cup parmesan
Olive Oil
Seasonings (I like to pre-mix these and season as I go)
1 TBS Herbs de Provence
1 TBS ground Rosemary
1 TSPN ground nutmeg
Salt & Pepper
Instructions
Bring a large pot of salted water to a boil (for the pasta). Follow package instructions.
Over medium heat, add olive oil to a large pan. Add the mushrooms and shallots. Season with salt and pepper and ⅓ of the pre-mixed herbs and spices. Cook until the onions are translucent, about 5 minutes. Add the shrimp. Add more salt and pepper and about ⅓ of the pre-mixed herbs and spices. Cook until the shrimp is pink, about 3-5 minutes. Remove the veggies and shrimp from the pan. Place in a bowl and set aside.
Place the pan back onto the heat and add more olive oil, about two spins around the pan.) Add butter. When the butter melts, whisk in flour to make a roux. Whisk in the wine, cook about 3 minutes, add the milk. Season with salt and pepper and the rest of the pre-mixed herbs and spices. Whisk until you have a nice consistency, about 5 minutes. Add the Mascarpone and parmesan cheeses. Keep whisking until the béchamel is creamy and smooth. Return the veggies and shrimp to the pan, stirring everything gently into the béchamel. Lower the heat.
Drain the linguine and add to the béchamel. (Make sure you drain it well, getting all the water out as you don't want to water down your creamy sauce.) Gently toss using a pair of tongs to coat the pasta with the creamy sauce. Enjoy!