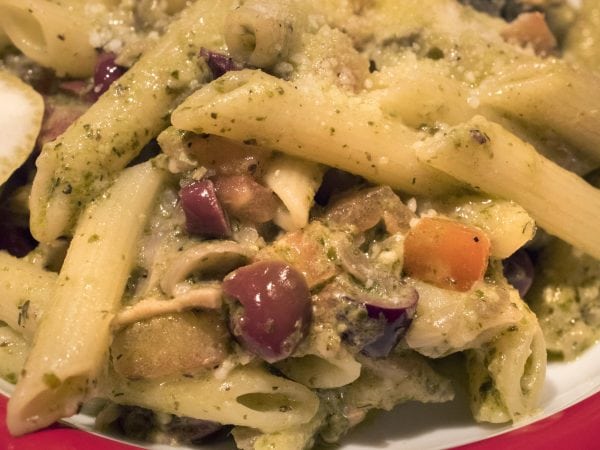 Penne with Pesto and Creamy Mushrooms
Author: this little italian
Prep time:
Cook time:
Total time:
Penne with Pesto and Creamy Mushrooms is one of my favorite dishes. It can be served as is or you may want to add chicken or salmon.
Ingredients
1 LB Penne
3.5 OZ package mushrooms, chopped (I use hen of the woods, but Criminy, baby portabello or another dark, earthy mushroom would work!)
1 shallot, minced
2 cloves of garlic, minced
1 bunch of parsley
1 bunch of oregano
1 bunch of basil
Olive oil
2 tbsp Mascarpone
2 handfuls Pecorino cheese
Splash of dry white wine (or vermouth)
(Reserve a cup of the hot salted pasta water for later.)
½ lemon
½ cup chopped Kalamata Olives
2 Roma tomatoes, diced
Seasonings for the Pesto
Salt and Pepper plus these dried herbs and spices
1 tbsp Oregano
1 tbsp Parsley
1 tbsp Basil
½ tbsp Dill Weed
½ tbsp Onion Powder
Seasonings for cooking the mushrooms
Salt and Pepper plus these dried herbs and spices:
½ tbsp oregano
½ tbsp dill
½ tbsp Fenugreek
Instructions
Pesto:
Rinse herbs, pat dry. Remove the leaves from the parsley, oregano and basil. Place inside the blender. Add half of the minced garlic and season with salt, pepper, and the dried herbs and spices. Add a splash of white wine, about a ¼ cup. Begin to blend while adding olive oil until you reach a nice, fluid consistency. Add a handful of Pecorino and blend it in.
Veggies:
In a medium pan, heat up some olive oil (about two spins around the pan.) Add the mushrooms, shallot and the remaining half of the garlic to the pan. Season as you go with salt, pepper and the dried herbs and spices. Cook for about 3-5 minutes until the mushrooms are soft. Add the Mascarpone, stirring it in as it melts through. Remove from heat.
Penne:
Bring a large pot of salted water to a boil (for the pasta). Follow package instructions. When you are about halfway through the cooking time, ladle out a little of the water and reserve for later. When the Penne is al dente, drain well and place back into the pot, off the heat. Add the pesto to the pot. Stir. Add the mushrooms, tomatoes and olives. Gently stir these in. Add some more cheese. This is where you may also want to add some of the reserved pasta water to get the consistency you like. The "sauce" should be loose, but not watery. Squeeze a half a lemon over the top, stir gently and serve.
Notes
Keep in mind that the Parmesan and Kalamata olives are naturally salty. Go easy on the salt when seasoning (and tasting) as you go.