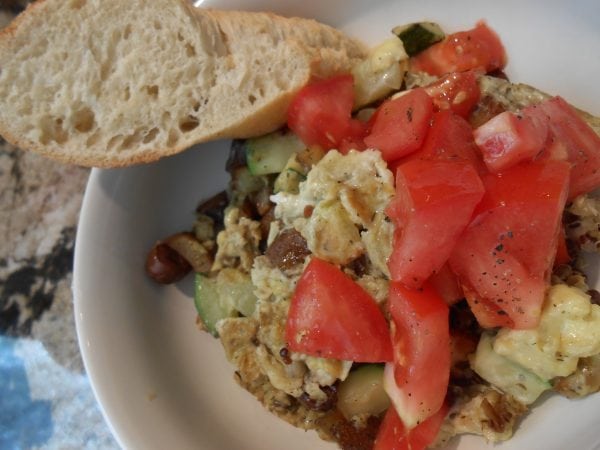 Quinoa Breakfast Bowl
Author: this little italian
Prep time:
Cook time:
Total time:
I love making quinoa. It's fast, easy, gluten-free and full of nutrients. It's high in fiber, vitamin, B, iron potassium, calcium, phosphorus, vitamin E and various beneficial antioxidants. Whew! Quinoa Breakfast Bowls can be made a variety of ways and is a great meal to start the day.
Ingredients
1 cup quinoa, cooked per package instructions
1 small russet potato, diced, 1" cubes
1 shallot, sliced
1 small zucchini, diced, 1" cubes
2 TBSP Kalamata olives
5 eggs
½ cup shredded mozzarella cheese
1 tomato
Olive Oil
Salt & Pepper
Seasonings (Pre-mix and season as you go)
½ TSPN dill
½ TSPN cumin
½ TSPN oregano
Instructions
Cook quinoa per the package instructions. It's usually 1-part quinoa to 2 parts water or broth. It takes about 15 minutes.
Coat the bottom of a medium frying pan with olive oil. When the oil is hot, add the potatoes and shallots. Add a pinch of salt and pepper, and also a pinch of the pre-mixed seasonings. Over medium heat, cook the potatoes and shallots until the potatoes develop a light brown crust around the edges, about 10-15 minutes. Add the zucchini, Kalamata olives and another pinch of seasonings. Stir it all together, making sure the veggies are coated with the oil and mixed up with the potatoes.
In a small bowl, scramble the eggs, season with salt and pepper.
Add the eggs to the frying pan and mix them with the veggies. Add the rest of your seasonings. Lower the heat and cook about 5 minutes, stirring until the eggs are just about ready. Add the shredded cheese, remove from heat, cover the pan and let the cheese melt for about 2 minutes.
Dice up the tomato, season with olive oil, salt and pepper.
Add a scoop of quinoa to the bottom of a serving bowl. Add the veggies and eggs. Add the tomatoes to the top and serve with a side of salsa and/or crème fraiche!