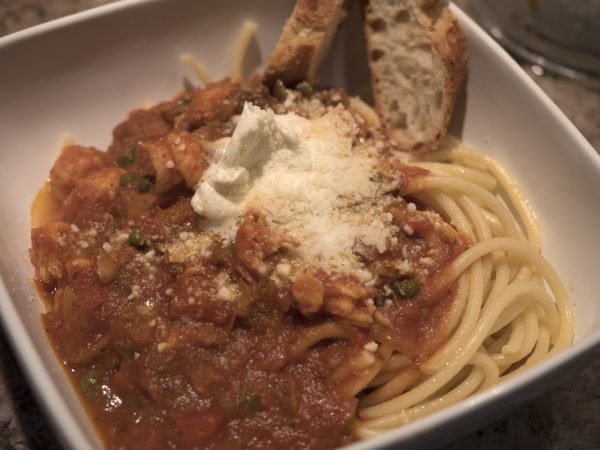 Bucatini, Fish Sauce with Mushrooms and Capers
Author: this little italian
Prep time:
Cook time:
Total time:
Fish sauce with mushrooms and capers is one of our family's favorites. Served over Bucatini with a garnish of creamy Mascarpone cheese, it's another variation on comfort food that everyone will love! The Langostino tails lend a mild fish flavor. You can use clams, scallops, shrimps - really anything you have on hand. You can also use a combination and substitute the chicken broth for fish juice to give it a little more seafood flavor.
Ingredients
1 32 OZ can diced tomatoes
1 6 OZ can tomato paste
1 cup dry white wine
1 cup chicken broth
1 yellow onion, diced
2 shallots, sliced thin
2 cloves garlic, finely chopped
3.5 OZ mushrooms, sliced (I used Maitake, also known as Hen-of-the-Woods)
12 OZ Langostino tails (I buy these pre-cooked at Trader Joe's. You can substitute shrimps, scallops or clams – whatever you have on hand!)
2 TBSP capers
½ cup Parmesan cheese grated
Mascarpone
Seasonings
1 TSP crushed red pepper flakes
1 TSP dried fennel
1 TBSP oregano
1 TBSP onion powder
1 TSP paprika
Salt & Pepper
Instructions
Blend the diced tomatoes, tomato paste and wine in a blender until smooth. Set aside.
To a large pan add olive oil (a few spins around the pan.) Add the onions and shallots, crushed red pepper flakes and fennel. Sauté a few minutes, until the onions are soft, stirring occasionally. Next, stir in the garlic and mushrooms. Cook for a few more minutes. Season with salt & pepper. Pour in the blended mixture of tomatoes and wine. Season with oregano, onion powder, paprika and little more salt and pepper. Stir, cover and bring to a low simmer. Cook over medium-low heat for 1 hour, stirring occasionally and adding a little chicken broth to create the right consistency. You don't want the sauce to be too "soupy" or too chunky, just somewhere in the middle!
Now for the Bucatini (or use whatever you like!) Cook according to package instructions. Usually 4 quarts of boiling water (don't forget to salt the water!) Cook the pasta for 11-13 minutes (al dente.)
Back to the sauce - Just before the pasta is ready, stir in the Langostino tails, capers and Parmesan cheese. Cover the pan, lower the heat. Cook the sauce for about five more minutes.
Drain the pasta well and serve it in a deep plate or bowl. Add the sauce and a dollop of mascarpone cheese. Garnish with parmesan and a drizzle of olive oil. Serve with warm, crusty bread.