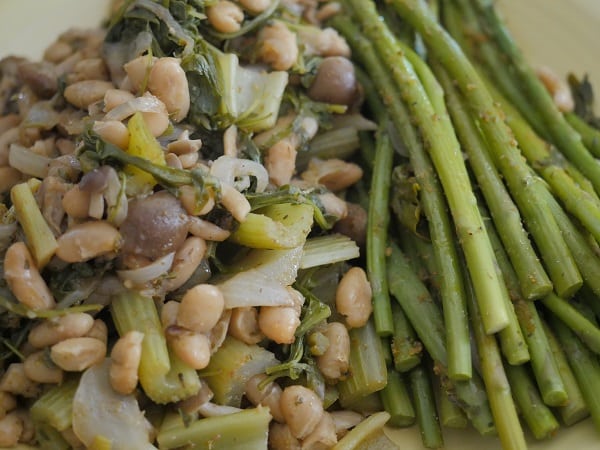 Sautéed Veggies and Northern Beans
Author: this little italian
Prep time:
Cook time:
Total time:
Sautéed Veggies and Northern Beans is a delicious side dish or on its own as a nutritious vegetarian meal.
Ingredients
1 shallot, minced
1 clove garlic, crushed
1 small yellow onion quartered, then sliced (half moons)
5 OZ Brown Beech mushrooms (you can use anything you like!)
3 stalks celery, cleaned, cut 2" pieces
1 15.5 OZ can of northern beans or white kidney beans, drained and rinsed
2 cups arugula, rinsed
½ cup dry white wine
1 bunch of skinny asparagus, rinse and remove the bottom stalk, about 2". Keep the stalks long.
Olive Oil
Seasonings (I like to premix and season as I go!)
1 TSP dill
1 TSP oregano
1 TSP onion powder
1 TSP smoked paprika
Salt & Pepper
Instructions
Coat the bottom of a sauté pan with olive oil. Over medium heat, add the shallots, crushed garlic, onion and mushrooms. Stir with a wooden spoon until the onions are translucent, about 3 minutes. Add the celery. Add some salt and pepper and some of your premixed seasonings. Cook for about 3 minutes, you want the celery to retain some firmness. Add the beans. Season some more. Add the arugula. Season with a little more salt and pepper and add some more of the premixed seasonings. Add the wine, cover the pan. Cook for about 2 minutes, until the arugula is wilted. Then, lay the asparagus over top. Add some more salt and pepper and the remainder of the premixed seasonings. Cover the pan and cook for about 3-5 minutes until the asparagus is cooked al dente.