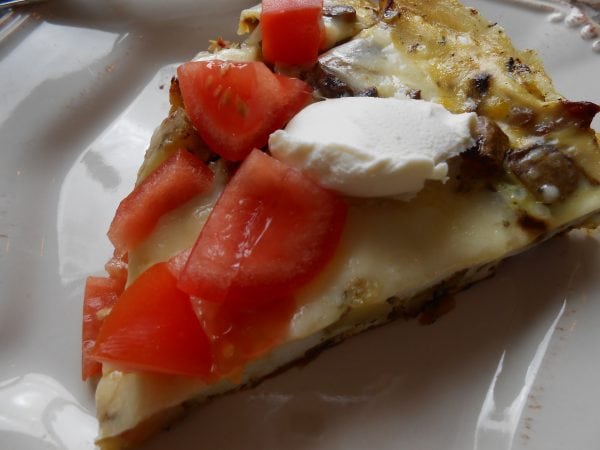 Sunday Frittata
Author: this little italian
Recipe type:
Breakfast, Brunch
Prep time:
Cook time:
Total time:
Sunday morning - ah, up bright and early. The house is quiet, the coffee is delicious and a lovely frittata is being prepared and can be kept warm until my husband joins me in the kitchen. This Sunday frittata is simple and delicious any day of the week and even makes great leftovers. I make it with potatoes, onions, sundried tomatoes and Kalamata olives. Add your favorite cheese and keep it warm in the oven until your sleepy heads rise and shine.
Ingredients
2 russet potatoes diced
1 small yellow onion diced
¼ cup Kalamata olives diced
2 TBS sundried tomatoes packed in olive oil, diced
½ cup dry white wine (nothing sweet, I used Sauvignon Blanc)
Seasonings (I pre-mix these and season as I go)
1 TSPN dill
1 TSPN oregano
1 TSPN turmeric
1 TSPN onion powder
1 TSPN ground coriander
8 eggs
Favorite cheese, shredded (I used ¼ cup parmesan and ½ cup mozzarella)
Olive Oil
Salt & Pepper
Instructions
To a cast iron pan, add olive oil (a few spins around the pan.) When the oil is hot, add the potatoes. Cook about 5 minutes, gently coating them in the oil. Season with salt, pepper and a few pinches of pre-mixed spices. Add the onions. Season again with a little salt, pepper and the rest of your pre-mixed spices. Stir the veggies and then cover the pan. Cook for 10 minutes, browning the veggies, occasionally stirring. Add ¼ cup of wine, cover the pan and continue to cook for about 5 minutes. Add the olives, sundried tomatoes and ¼ cup of wine. Cover the pan and cook for about 10 minutes.
Preheat the oven to low broil
To a bowl, add the eggs and whisk them up with a fork until whites and yolks are blended. Season with salt and pepper. Add the eggs to the pan. Turn and tip the pan so that the eggs cover the veggies completely. Cover the pan and cook for about 5 minutes.
Add the cheese to the top.
Place the pan, uncovered, into the oven. Cook for about 5 minutes until the eggs are done and the cheese is melted.
Remove from oven, and either serve from the cast iron pan, or turn it onto a cutting board. Cut "pie" slices and serve.
Notes
Serve with Mascarpone, ricotta or crème fraiche and diced fresh tomatoes