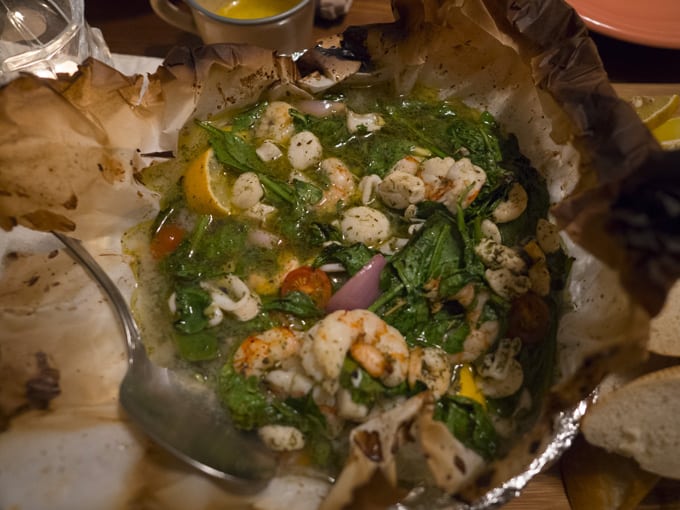 Seafood Poached in White Wine
Author: this little italian
Prep time:
Cook time:
Total time:
I love this dish because you simply mix all the ingredients in a big bowl, place inside a parchment lined baking dish and fold it into a lovely little steaming package of goodness.
Ingredients
1 lb seafood blend
½ lb deveined uncooked jumbo shrimp
3 cups fresh baby spinach
2 whole shallots
3 large cloves garlic
6 cherry tomatoes
olive oil
White wine (Pinot Grigio, something dry and delicious, that you would drink)
1 large lemon
3 tbsp butter
Seasonings
Salt & Pepper plus these dried herbs:
1 tbsp Herbs de Provence
1 tbsp Dill weed
Instructions
Rinse off the seafood and shrimp, make sure it's clean and pat dry. Set aside.
Peel and thinly slice the shallots
Peel the garlic cloves and leave them whole
Cut the cherry tomatoes in half
Into a large bowl add the seafood, shrimp, spinach, shallots, garlic and tomatoes and lightly toss. Season the mixture with sea salt, fresh ground pepper, Herbs de Provence and dill. Add olive oil, about ¼ cup. Add the white wine, about 1 ½ cups.
Toss gently until everything is coated.
Line a Pyrex baking dish with foil. I use a 9" round pie dish. Place a large sheet of parchment paper inside the lined dish. Make sure it's large enough to hang over all the sides, as you'll later "wrap" up the contents into a neat little package.
Scoop out the seafood/spinach mixture into the baking dish. Get everything in there, even the liquid. Cut the lemon in quarters and squeeze the juice over the top. Place the left over lemon wedges inside the baking dish. Add 3 pats of butter to the dish.
Fold up the parchment as if you're wrapping a gift. The seafood will poach in the wine, so you'll want to create the steaming effect inside the oven. That means when you "wrap" up the seafood with the parchment, you'll want to fold over the short edges, bring up the long edges and roll them together, to form a little packet.
Place inside the oven, middle rack at 400 degree F. Bake for 40 minutes.
Notes
Variations
You may want to add salmon or other types of seafood to the mix. If you do, make sure they are cut to the same size as the other pieces of fish so they all cook evenly.

Serve with a crusty baguette for dipping and perhaps a side of more melted butter.