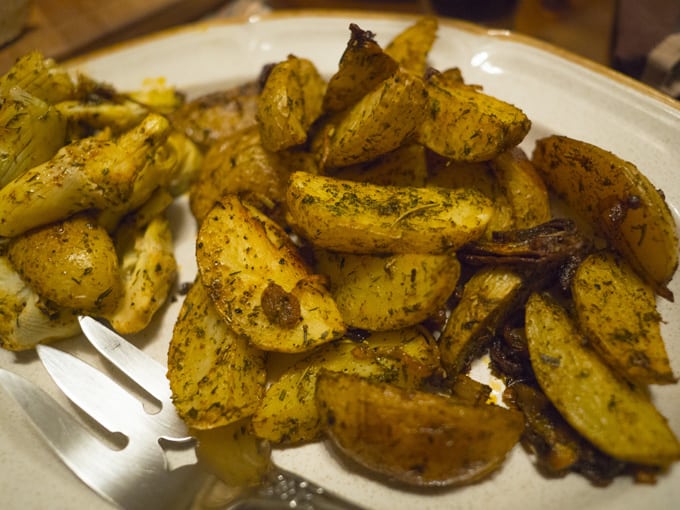 Smokey Roasted Potatoes with Artichoke Hearts
Author: this little italian
Prep time:
Cook time:
Total time:
Potatoes are so versatile and easy to prepare a number of different ways. Smoked
Ingredients
8 Yukon gold potatoes
1 16 oz can artichoke hearts in water
1 shallot
2 cloves garlic
olive oil
Seasonings
salt & pepper plus these dried herbs:
1 ½ tbsp smoked paprika (it has to be smoked!)
1 ½ tbsp dill weed
1 ½ tbsp Herbs de Provence
Instructions
Rinse the artichoke hearts, pat dry. Slice long-ways into halves. Place in bowl and set aside.
In another small bowl or cup add the dried herbs and mix together (like you're making a rub), set aside.
Clean the potatoes, pat dry and slice long-ways into wedges. Place the potatoes in a bowl.
Peel and thinly slice the shallots. Add to the bowl. Peel and crush the 2 cloves of garlic into the bowl. Pour olive oil over the top and season with salt & pepper.
Take ⅔ of the dried herbs you premixed and sprinkle over the top of the potatoes. Lightly toss everything until the potatoes are nicely coated. Line a baking sheet with parchment. Spread out the potatoes on the baking sheet. Place the potatoes in the oven at 375 degrees F. Bake for 30 minutes.
While the potatoes are baking, add the remaining ⅓ of the dried herbs you premixed into the artichokes. Lightly salt and pepper them.
After the potatoes have baked for 30 minutes, with a spatula gently move the potatoes around, turning them. Move them to one side of the baking sheet. Add the seasoned artichokes to the pan.
Bake for 20-30 more minutes and remove from oven. Serve hot with a squeeze of lemon to garnish.