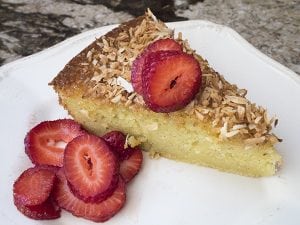 Orange Cake with Toasted Coconut
Author: this little italian
Prep time:
Cook time:
Total time:
Orange cake. So simple, so delicious. If you love the taste of citrus, make this delicious cake recipe if you're in the mood for something sweet. You can also substitute the orange for lemon or even lime.
Ingredients
14 oz cold whole milk
2 oz frozen orange juice concentrate, defrosted (or substitute lemonade or limeade concentrate)
1 stick melted butter
2 eggs
1 cup white sugar
1 ½ cups of cake flour
1 ¾ tsp baking powder
Pinch of sea salt
Glaze & Coconut Topping
½ cup of powdered sugar
1 tbsp orange juice concentrate, defrosted
1 tsp milk
1½ cups of unsweetened coconut flakes
Instructions
Preheat oven to 350 degrees F. Line an 8 x 8 x 2 inch pan with wax paper. Grease the bottom and sides also with cooking spray.
In a medium bowl mix the milk, orange, butter and 2 eggs. Blend well.
Add the dry ingredients: sugar, flour, baking powder and sea salt.
Pour the batter into the prepared pan.
Bake for 45-50 minutes. Cake is done when it springs back to the touch.
Let cake cool for 15-20 minutes, turn it out onto a dish.
For the topping, mix sugar, orange juice concentrate and milk in a measuring cup.
While the cake is still warm, spread over the top of the cake.
Heat up a dry pan, add the coconut flakes, turning with a wooden spoon until they're light brown and toasty. Sprinkle on top of the glazed cake.
Serve warm, add fresh berries!