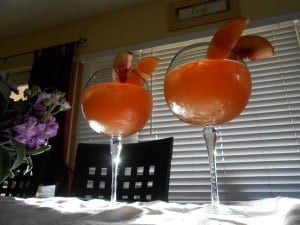 Sangria
Author: this little italian
Sip on some delicious summer sangria to cool off on a warm day. Or make some in the middle of winter, enjoy in front of a fire!
Ingredients
1 (750 ml) bottle of your favorite Rosé
1 cup of mango nectar
2 oz Grand Marnier
1 oz Cointreau
2 white peaches
1 orange (juice)
1 lemon (juice)
1 cup of sparkling water
Instructions
In a large glass pitcher add the Rosé, mango nectar, Grand Marnier, Cointreau
Cut your peaches in half, carefully removing the pit. Slice wedges, about 6 from each peach. Reserve a few for garnish.
Juice one orange and add
Juice one lemon and add
Give a quick stir, top with sparkling water.
Refrigerate and serve cold, over ice.