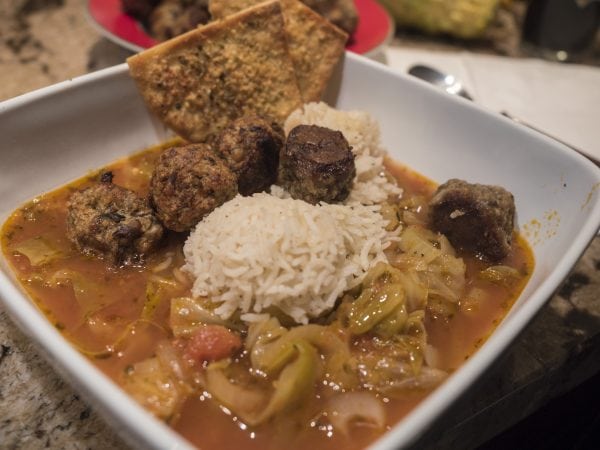 Stuffed Cabbage: Deconstructed
Author: this little italian
Prep time:
Cook time:
Total time:
When I was a girl my mom would make stuffed cabbage. It was one of my favorite meals! She'd take her time, rolling each beautifully steamed cabbage leaf, stuffing it with a spicy combination of ground meat and rice. She'd simmer the rolls in homemade
Sunday gravy.
So simple, so delicious. I love to make stuffed cabbage. I also love to make this soup. It's my take on stuffed cabbage - deconstructed. I serve it with toasted pita bread drizzled with a little olive oil and seasoned with rosemary, oregano, parmesan, salt & pepper. This soup reminds me of my mom. She loved to cook for us. Whenever I make this for my family, I think of her. Whenever my husband tells me it's the best soup he's ever had, I think of my dad's reaction to my mom. #family #smellslikehome
Ingredients
Soup
2 shallots minced
2 cloves of garlic minced
1 large yellow onion, cut in half and sliced thin
2 carrots, cut in half moons or circles
2 stalks of celery, chopped
½ head of green cabbage
1 32 oz carton chicken broth (you may substitute beef or vegetable)
1 32 oz can diced tomatoes (puree in a blender)
4 cups cooked white rice. (2 cups before cooking) I like to use Jasmine in this recipe but you can substitute with whatever you like.
Seasonings
1.5 TBS onion powder
1.5 TBS oregano
1 TBS rosemary
1 TBS Herbs de Provence
2 tspn black pepper
Salt
Meatballs
1 LB lean ground beef
1 tbsp. oregano
1 tbsp. herbs de Provence
1 tbsp. onion powder
½ tbsp. paprika
1 tsp. salt
1 tsp. ground black pepper
1 medium yellow onion, minced
2 cloves garlic, minced
¼ cup red or white table wine
1 egg
1 tbsp. olive oil
3 tbsp. fresh, chopped parsley
½ cup breadcrumbs
½ cup Parmesan cheese
Instructions
Prepare the meatballs. While the meatballs are in the oven, make the soup
To a large stock pot add olive oil (a couple spins around the pot). Add shallots, garlic, onion, carrots, celery and cabbage. Stir to coat the veggies in the oil. Season with ½ of your pre-mixed herbs and spices.
Add the chicken stock. Add the pureed tomatoes. Stir and add the rest of you pre-mixed herbs and spices. Cover and simmer on medium for 45 minutes.
Taste the broth. Does it need salt? Season to taste. Add the meatballs to the pot. Simmer for about 15 minutes more.
To serve, add a scoop or two of rice to the bowl. Add the soup.
Notes
Garnish with parmesan or even a dollop of mascarpone or creme fraiche.