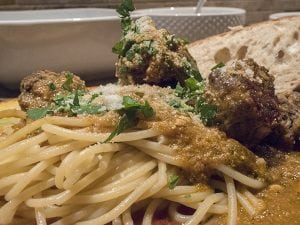 this little italian's Sunday Gravy and Meatballs
Author: this little italian
Prep time:
Cook time:
Total time:
Sunday Gravy and Meatballs - we used to drive 30 minutes through Middlesex County in Jersey to my grandmother's 2 bedroom 1 bath cape cod with the cool basement and black & white checked kitchen floor to feast on spaghetti, meatballs and Sunday gravy. This recipe is as close to what my grandma's tasted like as I can remember. this little italian's Sunday Gravy and Meatballs is comfort food at its finest. I remember my grandmother would hand-grate mouthwatering shreds of Pecorino Romano and spike it with freshly grated black pepper before taking it to the table in her most fragile, lovely china bowl. The spoon was made of glass. And she'd send it down one side of the table with the basket of warm bread sailing down the other. All was quiet and then she'd ask, "is everybody happy?" I surely was.
Ingredients
Meatballs
1 LB lean ground beef
1 tbsp. oregano
1 tbsp. herbs de Provence
1 tbsp. onion powder
½ tbsp. paprika
1 tsp. salt
1 tsp. ground black pepper
1 medium yellow onion, minced
2 cloves garlic, minced
¼ cup red or white table wine
1 egg
1 tbsp. olive oil
3 tbsp. fresh, chopped parsley
½ cup breadcrumbs
½ cup Parmesan cheese
Sunday Gravy
1 32 OZ can of crushed tomatoes (Cento San Marzano)
1 6 oz can of tomato paste
1 cup of red or white table wine
1 cup of chicken broth
1 bunch Italian parsley ("Shave" the leaves off the stems with your knife. Finely chop and reserve 2 tbsps. The rest will be placed in your blender or food processor to make the pesto.)
Olive oil
1 tsp. crushed red pepper
½ tbsp fennel seeds
1 yellow onion, diced
3 cloves garlic, crushed
1 tbsp. dried oregano
1 tbsp. herbs de Provence
1 tbsp. onion powder
½ tbsp. tarragon
1 tsp. smoked paprika
1½ tsp. salt
1 tsp. black pepper
2 heaping tbsp. of Ricotta (you may substitute Mascarpone)
*Add fresh mushrooms, just sauté them when you're cooking the onions and garlic.
Instructions
To make the meatballs:
Preheat the oven to 400 degrees.
To a medium bowl add the beef, oregano, herbs de Provence, onion poweder, salt, pepper, onion, garlic and wine. Mix with one hand, turning the meat in the bowl. (Do not over mix.)
Add the egg, olive oil, parsley, breadcrumbs and cheese.
Continue to mix with one hand until all the ingredients are blended nicely, but not overdone.
Form 1.5"-2" meatballs and place on a baking sheet. Cook at 400 for 20 minutes. Broil on high for about 5 minutes to form a nice crust.
About 15 minutes prior to the gravy being ready, I like to transfer these from the baking sheet into the pot of gravy. This recipe makes 24 meatballs.
To make the gravy:
To a blender, add the tomatoes, tomato paste and wine. Blend together.
Into a sauce pan, add the olive oil (about 2-3 turns around the pan.)
Add the red pepper, fennel seeds, onion and 2 cloves of garlic. Turn with a wooden spoon and cook on medium heat until onions are translucent.
Add the tomato blend.
To the same blender, add the parsley, 1 clove of minced garlic and chicken broth.
While blending, drizzle in some olive oil until the consistency is smooth. Add this pesto to the sauce pan.
Season with oregano, herbs de Provence, onion powder, tarragon, paprika, salt & pepper.
Stir and bring to a simmer. Partially cover the pan with the lid leaving a little room for steam to escape. Lower the heat and cook for 45 minutes.
Add the ricotta and the reserved parsley. Add the meatballs. Cook for 15-20 minutes more. Serve over spaghetti or enjoy it as is with warm ciabatta or a crusty baguette!
This is Sunday Gravy and Meatballs, which means making a day of it. Sunday supper was served at around 2 pm in our house. So at around noon, open up a bottle of wine to enjoy with your husband, or your mom or aunt or friend ~ and begin making the gravy. You can cook the gravy all day if you want! Just cook it on low, semi-covered and stir occasionally.