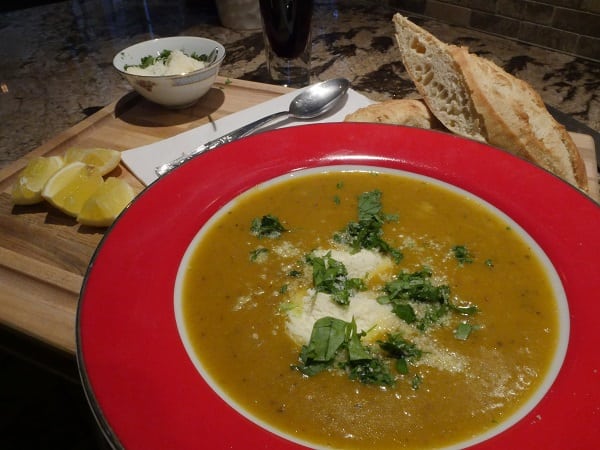 Butternut Squash Coconut Curry Soup
Author: this little italian
Prep time:
Cook time:
Total time:
Butternut Squash Coconut Curry Soup is delicious and this recipe is a simple "go to" meal any day of the week!
Ingredients
2 medium butternut squash, cut in half long-wise. Remove the seeds.
3 red potatoes, small cubes
4 cups chicken broth
1 yellow onion
2 tbsp. butter
1 13.5 oz can coconut milk
Olive oil
Salt & black pepper
Seasonings:
(I like to pre-mix these and season and I go.)
1 ½ tbsp. Rosemary
1 ½ tbsp. oregano
1 ½ tbsp. turmeric
1 ½ tbsp. onion powder
1 ½ tsp coriander
1 ½ tsp Fenugreek
Garnish:
Fresh Italian parsley, rough chop
Mascarpone
Grated Parmesan
Lemon
Instructions
Pre-heat oven 400 degrees. Place squash skin-side down, drizzle the top with olive. Season with salt and pepper. Cook for 20-25 minutes until soft. With a spoon, hollow out the squash by removing the meat from the skin, set aside.
In a stock pot, drizzle olive oil and add potatoes. Saute' until soft. Set aside.
Add the squash and 2 cups of chicken stock to a blender. Blend until smooth. Pour into a bowl.
Next, add the potatoes to the blender and 1½ cups of stock. Blend until smooth. Add to the bowl of pureed squash.
To the (same) stock pot, drizzle olive oil and add the diced onions. Add the butter. Season with salt & pepper. Cook until onions are soft and translucent. Next, add the squash, potatoes, and remaining ½ cup of chicken stock to the pot. Add the coconut milk and half of your pre-mixed seasonings.
Stir it all together, cook on medium heat bringing the soup to a simmer, about 5 minutes. Lower the heat and cook for 30 minutes. Add the remainder of pre-mixed seasonings. Cook for 5 minutes more, serve with warm bread. Garnish with Mascarpone, parsley, grated cheese and fresh lemon.