Several weeks ago, I had the pleasure of meeting John and Brenda Wahl, a husband and wife team focusing on all natural, small batch skin care products that enhance one's life, body and home.  We met on Instagram where I was drawn to their company website Circle Creek Home.
Located on the banks of the beautiful Pilchuck Creek in Arlington, Washington, the Wahl's hand-make their line of skincare products from start to finish while sourcing only quality materials from local suppliers.  Their days are spent creating products in the Circle Creek studio, walking along the creek, and tending to their honey bees and gardens.  They love the simple things in life:  good friends, good food and producing natural and healthy skincare products for their customers.   I suppose that's why I liked them immediately!  We share a love for simple things. So, I reached out – to say hello, I love what you're doing and to thank them for sharing what life is like in their splendid corner of the world.
A few emails back and forth, and one day, all the way from the cool and damp pacific northwest, to the bright and sunny desert of Fountain Hills, AZ, these little beauties landed on my front porch – and can I just say, as much as I wanted to try them all at once, I was equally enamored by the packaging and just wanted to admire it for a day or two.
My newfound friends and purveyors of natural skin care products sent instructions and these items to sample as my (new) daily facial skin care routine:
Natural Cleansing Bar
Rose Toner
Natural Shea Butter
Plus, these precious goodies:
Neroli Rose Bar Soap
Honey Balm Lip Care
I've been using Circle Creek Home products for a couple of weeks now and I have to say up front – these products not only look, feel and smell clean, but when you use them, you will look, feel and smell clean (& beautiful) too.
Natural Cleansing Bar for both face and body.  It is clean and unscented, perfect for super sensitive skin. They combine super fatted oils to soften and moisturize the face and body.  I placed it in the shower and use it daily.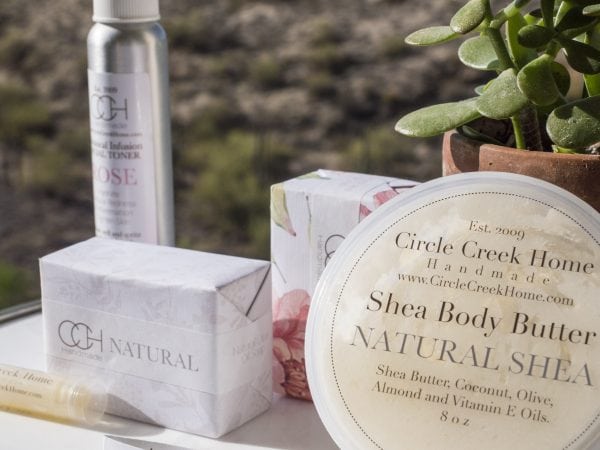 I shower in the morning and in the evening before I go to bed.  They say that depending on how often you shower and how much you like to lather that their soap can last up to several weeks if kept dry between uses.  That is surely the case, as I've been showering with the Natural Cleansing Bar for two weeks and I'd say there's about 75% of the bar left.  I love that it doesn't contain artificial preservatives, chemicals, or hardeners. Although I inherited my olive skin tone from my Sicilian father, my mom who was a beautiful fair-skinned Italian with blue eyes is where my sensitivity to most skin care products comes.  Because of that, I'm reluctant to try new things.  The Natural Cleansing Bar doesn't have a heavy scent (if any.)  Within the first few days of washing with it, I realized that since it left my skin feeling soft and clean without the smell of perfume, it must be okay for shampooing my hair.  So, I did, and I love it.  Circle Creek Home's soap is crafted in small batches to assure quality.
Rose Toner for use after the face is dry and before applying moisturizer; also spritz a touch to set makeup – this Rose Toner reminds me of rose water and it really perks up the skin!  It is known to hydrate, reduce redness and inflammation and tighten the skin.   I can't help myself – one spritz to my complexion becomes several and I also spritzed a little on my wet hair before drying.  I don't use a lot of products or anything containing sulfite or parabens.  I don't color my hair and as a result, I'm seeing some "salt" to go with that "pepper."  That's okay, I'll take it and wear it proudly.  (What do they say?  Don't yank the gray or six more will come to its funeral!)  Again, I am part Sicilian and inherited my wavy hair from my dad.  So, a little spritz of Rose Toner added hydration and left a pretty, subtle scent.  Just a few minutes with the blow dryer to control the chaos and I'm set.
Natural Shea Butter for use on both the body and face.  This all-natural formula deeply moisturizes for soft, smooth healthy skin. Best applied after a shower or bath, Natural Shea Body Butter goes a long way and they recommend using it sparingly.  I live in the desert.  It's warm and dry and especially challenging to find moisturizers that really do hydrate and don't require multiple applications throughout the day.  Circle Creek Home's Shea Butter lives up to its description.  The consistency is truly that of whipped butter – it's fluffy!  It's light and when you apply it to your skin it feels positively luxurious! I love it because it's known for its ability to hydrate and it does not disappoint.  Like their other products, it is handmade in small batches with the finest ingredients. Use it on your face and body – again, you'll love how rich it feels on your skin with just a subtle hint of "nuttiness" from the Shea.
Also included in the shipment:
Neroli Rose Bar Soap is formulated for use on the entire body including the face. Handmade in small batches with saponified oils of olive, coconut, palm and or sweet almond oil, Shea butter and sea salt, and scented with a blend of essential oils and or dried botanicals.  Let's face it – I had to look up saponified and quite simply, it's the chemical reaction between any fat and sodium hydroxide, aka the science of soap-making.  I can smell its essence through the packaging.  I love it, just like the Rose Toner.  I haven't tried this one yet.  I'm going to finish the Natural Cleansing Bar first and then open the Neroli Rose Bar Soap.  I can't wait though and will most likely use it as often and apply it the same way as the Natural Cleansing Bar Soap:  face, body, hair!
Honey Balm Lip Care – Circle Creek Home's Lip Care is an all-natural recipe made with coconut oil, beeswax and essential oils. It glides on smooth to soothe and moisturize lips.  They have eight different options:  coconut lime, sweet orange, lemon verbena, lavender, Rosemary mint, honey and peppermint.  I received the honey and it is delightful!  I'll keep one in my purse at all times, as I'm not much into lipsticks.  The Arizona sun can do a number on your skin, so keeping lips kissable it important.  (By the way, did I mention that my husband loves these products too?)
Full disclosure:  This is not a paid endorsement.  This product review is simply to let readers know that there are natural skincare products available and that they work and don't break the bank.  I love Circle Creek Home skincare products and especially appreciate John and Brenda's story about how producing natural and healthy skin care products for their customers is their passion…so much so, that after years of chasing their dream of working together, Circle Creek Home became a full-time job for them in the Summer of 2011.
If you want to try a skincare line that's good for your skin, will make you look, feel and smell amazing, check out Circle Creek Home.  Use 'plantbased' as your offer code and receive 10% off your order.  I think you'll love their products (and the Wahl's) as much as I do.