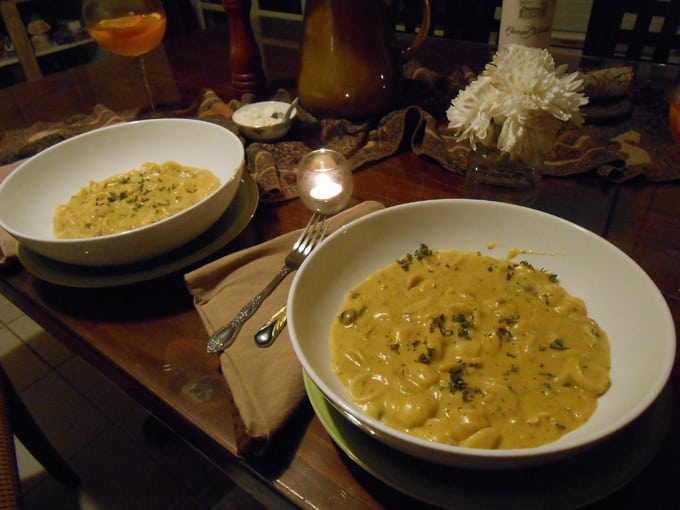 Mac & Cheese for Grown Ups!
Author: this little italian
Prep time:
Cook time:
Total time:
Mac & Cheese for Grown ups!
Ingredients
1 lb Orecchiette pasta (or elbows, Fusili, shells ~ anything you like.)
8 oz package Enoki mushrooms
1 shallot
2 tbsp butter
2 tbsp flour
Dry vermouth (or white wine)
½ cup of chicken broth
2 cups of milk (or half & half or heavy cream OMG!)
16 oz shredded smoked Gouda
8 oz shredded smoked cheddar
2 handfuls grated Pecorino cheese
Olive oil
Fresh parsley (Italian, flat leaf) and fresh thyme
Seasonings
Salt and Pepper plus these dried herbs:
½ tbsp Oregano
½ tbsp Parsley
½ tbsp Basil
½ tsp Nutmeg
Instructions
Mac
Bring a large pot of salted water to boil, add 1 lb Orecchietta and cook about 6 minutes ~ it'll finish cooking in the cheesy sauce you're about to make! Drain the pasta, but don't shake it dry ~ just drain it and place the pasta back into the pot you cooked it in.
Cheese
In a large sautée pan heat up some olive oil, about 2 turns around the pan. Peel and finely chop the shallot; add to the pan. Clean and chop the Enoki (about an inch length.) These basically melt into the sauce when it's all said and done. Add mushrooms to the pan, stirring with a wooden spoon. Lightly season with salt and pepper; cook about 3 minutes.
Move the shallots and mushrooms to one side of the pan. Make the roux: Add the butter and a little more olive oil, about a tbsp. Add the flour and mix in a circular motion until the flour becomes the consistency of paste. Stir in vermouth. Stir in chicken broth, keep stirring. It's OK to mix in the shallots and mushrooms at this point. Add the milk. Keep stirring. It'll become a smooth, white sauce. Season the sauce with the dried herbs. Add more fresh ground black pepper. Mix well and add all the cheeses. Keep stirring. Take off the heat.
On low heat, add the cheesy sauce to the pasta pot. Gently stir the Mac & Cheese together until all the pasta is coated.
Serve with freshly chopped parsley & thyme on top and some more grated Pecorino.
Notes
Variations (if you want)
Substitute dry vermouth for any nice dry white wine.

Substitute the milk for half & half or heavy cream (OMG) or you can substitute the milk for more chicken broth, although the consistency of the finished dish will be a little different and not as creamy.

Instead of serving from the pot, you can take this one extra step and add to a 9" x 13" buttered baking dish, sprinkle breadcrumbs and grated cheese over the top and bake at 350 for 20 minutes.