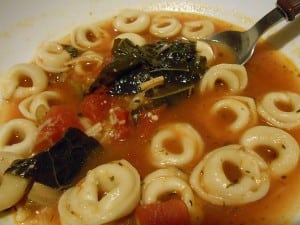 Tomato Soup with Tortellini and Kale
Author:
this little italian
Prep time:
Cook time:
Total time:
When I was a kid, the first cool chill in the air prompted my mom to make some homemade soup. We had all kinds, Italian wedding soup with delicious meatballs, minestrone, even Pasta E Fagioli. My mom loved soups. This tomato soup with Tortellini and kale is one of the last meals I prepared for my mom before she passed away. This recipe in particular is comfort food for me. It reminds me of the last few precious weeks we had together.
Ingredients
Olive Oil
1 onion, diced
2 cloves garlic, minced
8 oz Enoki mushrooms, cut into 1" pieces
1 28 oz can of crushed stewed or diced tomatoes
4 cups of chicken broth
1 large bunch of kale rough chopped
16 oz of fresh tortellini (or frozen)
Grated Parmesan
Seasonings
Salt & Pepper plus these dried herbs
1 tbsp Basil
1 tbsp Oregano
1 tbsp Dill Weed
*I love these flavors and use my palm as a measure = to 1 tbsp I put them in a small dish and mix them up and use the mixture to season as I go.
Instructions
Heat the olive oil in a large pot (about 3 spins around the pot.) Add the onion, garlic and mushrooms and cook until translucent, about 5 minutes. Season with ½ of the seasons: salt, pepper, basil, oregano and dill while stirring. Add the tomatoes and chicken broth and bring to a simmer about 10 minutes. Add the kale. Add the fresh tortellini and cook to al dente (about 3 minutes, or 5-6 if frozen.) Add more salt and pepper to taste if needed. Serve in a soup bowl with fresh Parmesan on top.
Notes
This soup is a light broth but if you would like to achieve a silky richness, add 4-8 oz of heavy cream or 8 oz of Mascarpone during the last 5 minutes, stirring until it is mixed well into the soup.