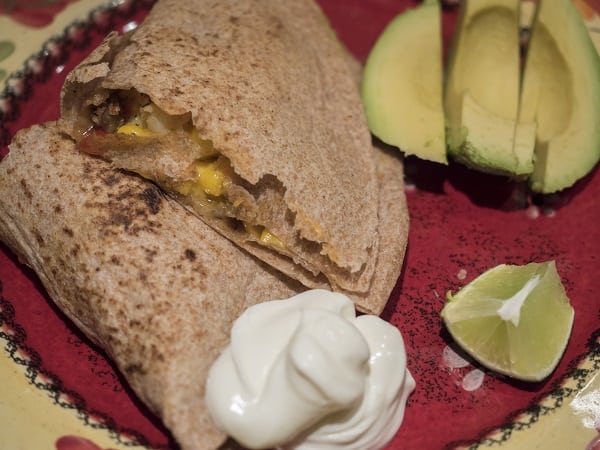 Shrimp Quesadilla
Author: this little italian
Prep time:
Cook time:
Total time:
Shrimp quesadillas can be served up as an appetizer, lunch or even a light supper. Make these as mild or spicy as you like and wash it down with a delicious, homemade
margarita
!
Ingredients
3.5 OZ package organic Maitake mushrooms (hen of the woods)
2 LBS Argentinian red shrimp, cleaned (large 20/25 count)
16 OZ can Pinto Beans, rinsed
1 cup fresh corn off the cob (about 2 ears) or frozen is OK
1 shallot, minced
1 clove garlic, crushed
10-12 cherry tomatoes
Olive Oil
Juice of 1 lime, plus 1 lime for garnish
2 cups Colby Jack cheese
Crème Fraiche for garnish
1 avocado for garnish
Seasonings
1 tbsp chili pepper
1 tbsp cumin
½ tbsp oregano
½ tbsp dill
½ tbsp onion powder
salt & pepper
Instructions
I love this recipe. It's so quick and easy to put this together. Sometimes the day runs long and by the time my husband and I meet up in the kitchen to make some dinner together, it's late. First, prepare your spices. Add chili pepper, cumin, oregano, dill and onion powder to a small bowl. Mix it up with your fingers and set aside. I like to season as I go and this is an easy way to layer flavors while cooking. Next preheat the oven to 375.
On the stove, heat up some olive oil in a medium to large size pan. Add the mushrooms, shallot and garlic. Season with a few pinches of the spice mixture, salt & pepper. Cook until they soften, about 5 minutes. Next, simply add the beans, corn and cherry tomatoes. Squeeze ½ of the fresh lime juice. Season again with a pinch or two of the spice mixture. Move the veggies and beans to one side of the pan and in a single layer add the shrimp. Season with the spice mixture, salt & pepper. Cook for 3-5 minutes, then turn the shrimp and cook the other side, about 2-3 minutes. Season again with the spice mixture and squeeze the juice in of the remaining ½ lime. At this point, I keep the shrimp to one side of the pan. (It's easier when you build the quesadilla, as I leave the shrimp whole.) Remove from heat.
Place 4 tortillas on a large baking sheet. You can leave half of each tortilla hanging off the sheet since you will be folding them over. Sprinkle ¼ cup of shredded cheese on what would be the "bottom" side of the quesadilla. Add 4-5 pieces of shrimp over the top. Add the veggie & beans to the top of the shrimp. Sprinkle ¼ cup of shredded cheese on top and fold the tortilla over all the goodness inside! Bake in the oven at 375 for 10-15 minutes until the cheese is melted and the quesadillas are slightly crispy. Serve hot with a dollop of Creme Fraiche, avocado salsa and/or fresh squeezed lime.